The beginning of the year is the time to set goals, evaluate your health, and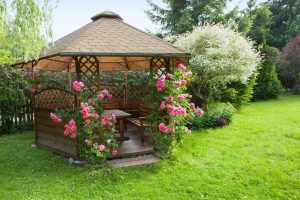 finally tackle your big projects. Spring, however, is the time to check your progress and adjust your surroundings so you can stay on track. Depending on your work, hobbies, and general lifestyle, there are a lot of ways to do so right from the cool comfort of your gazebo.
Host and Have Fun
Whether you want a unique way to entertain guests or a change of pace from your normal media room, your gazebo is the place to go. From a wine-tasting party to a family movie night, you can create an outdoor entertainment space with furniture rearrangements, mood lighting, and utility adjustments.
Build a Home Gym
Exercising outside will help you stay centered, focused, and engaged throughout each rep, set, and pose. Turn your gazebo into an outdoor gym or fitness studio with equipment as simple as a yoga mat or heavy duty as a weight rack. To make your workout more comfortable, add a fan and portable speaker.
Get Some Work Done
Moving a laptop, comfortable chair, and table to the natural environment under your gazebo might be just the change you need to power through extra work. By sitting in a naturally lit area with fresh air, you might approach work from a new perspective that will help you conquer everyday tasks even quicker.
Upgrade Your Kitchen
From a full-range kitchen to a simple gas grill, you can turn your gazebo into the perfect backyard cooking station to support your family or entire neighborhood. Add a modernized touch to your gazebo with cabinet installation, or go for a simple, functional look with an outdoor dining table and a personal grill.
Unwind With Nature
Watch the season's change right from underneath your gazebo with a personal spa. By transforming your gazebo with a hot tub, you can relax and unwind while staying safe from UV rays and sun damage. And, the protection from your gazebo will help keep your hot tub free from leaves and other debris.
Unlock All the Benefits of a Gazebo
If you're still not sure where to start with your spring makeover, contact the team at Superior Sheds. We can help you with renovation ideas perfect for your long-term gazebo goals or even design the perfect, brand-new structure to fit your style and budget. For more information on how to brighten your gazebo for spring, please contact us at 1-877-439-7433.