Bungalow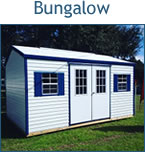 Our bungalows offer maximum space for your equipment, items, and surplus supplies. They are classically styled to look like small homes, with a lap-sided aluminum exterior and an enamel finish which is made to be durable and require minimum maintenance throughout its lifetime. Our bungalows come in different sizes —6′, 8′, 10′, 12′, 14′ widths – with lengths up to 40′. You have the option of a variety of entryways, garage doors, vents, windows, and any electrical setup.
Country Inn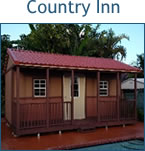 Our Country Inn storage sheds look like they're supposed to be in the backdrop of an old western film. They're rustic, simple, and familiar. Our Country Inn sheds are perfect for those that require or have a deed restriction. They're designed for people who need storage space, but want something that has a bit more style. Just like any of our other sheds, you have the choice of customizing your color and siding. For siding options, you have vinyl, perma board, and wood grain.
Cabana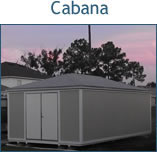 Our cabana sheds take inspiration from island flair, boasting a modern roof which gives it a contemporary, Floridian feel. The specs of our cabana models are similar to our Country Inn, with an additional variety of color options. You have the choice of different upgrades like Bahama-style windows and doors. Other upgrades that are available to you like our porch option that will give your cabana a more homey feel.
Double and triple wide options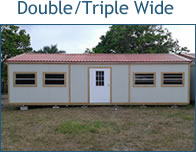 If you need better storage space that would store not only your extra equipment but also a car, then our double-wide sheds might be the right option for you. Our double wide sheds can be as large as 20′ X 36′, which gives you more than 700 ft.² of storage.
All of our sheds are tested to withstand Florida's inclement weather. Superior Sheds works closely with local governments to ensure proper permits and licensing. To learn more, contact us via our contact page.