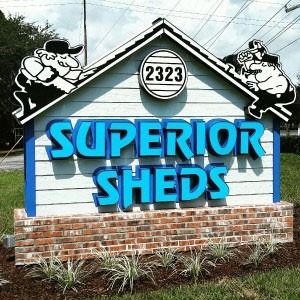 Why Choose Us
Superior Sheds, Inc. is a leader in designing, assembling, and delivering portable storage buildings. Superior Sheds is a consumer-oriented company with emphasis on quality and service. We take pride in the fact that many of our new customers are neighbors or friends of satisfied customers. Everyone at Superior Sheds including our Production Team, Delivery Teams, Sales Associates, and Office/Support Staff works hard to make Superior Sheds your BEST choice for your storage needs.
Every Superior Sheds building combines modern aesthetics with true utility, without compromise.
Craftsmanship is assured by our Quality Control Manager, who inspects every shed, ensuring that each one exceeds State Regulations.
We make ordering easy!
Our sheds are Miami-Dade County Approved.
All of our sheds are rated at 170MPH wind load.
Manufactured in Florida for Florida weather.
Superior Sheds are Approved/Inspected/Certified before they leave the factory (State of Florida, DBPR, Manufactured Buildings: ID MFT – 113, Chapter 553, Part 1, Florida Statutes; Max size of 720 sf)
Become an Authorized Dealer
Complete our
Dealer Inquiry Form
to help us learn more about you and your business. After your submission we'll contact you to discuss your needs in more detail.
Florida's Favorite Sheds
Superior Sheds builds our sheds around your tastes and style! You'll find exciting options to match your home's color and style. Quality, Strength and Variety = Superior Sheds!
Careers at Superior Sheds
Are you looking for a great company built on ethics & integrity? Are you a hard working dedicated person with ethics and integrity? Then we are looking for you!
Why Work at Superior Sheds?
Excellent opportunity
Stable Company Continuing to Grow
Full-Time Employment
Medical/Dental Benefits Available
Competitive Compensation
Opportunity to Grow with Us
Prefers Promotion from Within
We would love to hear from you, so please take a moment to stop in to our Orange City location or click
here
to send your resume. We have locations across the state of Florida so please let us know what position(s) you are interested in and what cities or towns you are able to work in.