The possibilities are endless when perfecting the ultimate "she shed." But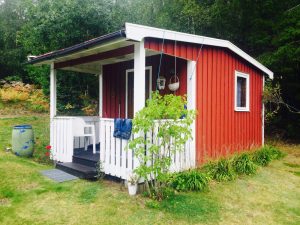 having so many options can be a little overwhelming for first-timers. If you're thinking about personalizing a she shed but don't know where to start, here are six ideas to help get your project organized and off the ground.
A Workout Area
Create your own yoga studio or at-home gym with an athletically-inspired she shed that fits your active lifestyle. Lay down rubber tiles, roll out your yoga mat, and make sure you've got an AC unit or fan to keep you cool throughout your workouts. Depending on your sport of choice, you can stock your mini gym with anything from free weights to a training bag.
A Reading Nook
Escape from your everyday life and turn your she shed into a unique reading space. To create the ultimate reader's room, lean on windows for natural light, install electrical outlets, and add some lamps to keep the story going all night long. You can even install wall shelves to dedicate the perfect amount of space to your personal library.
A Creative Outlet
Whatever your passion is, you can put it under the spotlight in your she shed. Whether you're a painter, writer, sculptor, or musician, you've got free reign to transform your shed into a private, creative place. Decorate the walls with your favorite pieces, hang your instruments, and turn the volume all the way up to express your art any way you want.
A Craft Station
Stop stashing your crafts under the bed or inside a guestroom drawer, and let them have the floor in your shed. Roll out an official sewing station, knitting corner, or arts and crafts table where you can feel comfortable making a mess. If you've got some proud craft projects to flaunt, use your shed as a display room for the homemade ones you hold closest to heart.
A Personal Bar
Turn your she shed into an adults-only area with a full, medium, or mini bar. Stock up on your favorite cocktail ingredients, like syrups, herbs, and citruses. Or, fill your mini-fridge with local craft brews that will impress all of your visitors. With added electrical installations, you can keep your drinks at a constant, cool temperature.
A Meeting Room
Do you run a business, enjoy working from home, or want to take the next step in your professional life? Use your she shed to host meetings, throw professional gatherings, or just get things done. To put a modern twist on the corporate conference room, decorate your shed with seating options like a classic leather couch. Or, make your shed the perfect study by adding a file organizer and a super stylish desk space.
Select Your She Shed
If you can't wait to get started on your she shed, come visit the crew at Superior Sheds. Browse our arrangement of single-, double-, and triple- wide sheds in all sorts of styles. When you find the right size, pick the design and other personal preferences that matter most to you. To get started on your she shed project, call us today at 1-877-439-7433.