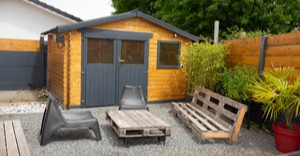 No matter where it sits around your property, an outdoor storage shed can add valuable space to your home. However, not all sheds are created equal. If you're interested in investing in an outdoor shed, there are several things you should first consider.

What to Consider When Buying an Outdoor Shed


Shed Design – When purchasing a shed, consider your personal aesthetic preferences as well as the current look of your home. Your shed should, preferably, match its surroundings and complement your home to some extent. So that it does not stick out in an unflattering way, you may want to surround your shed with various plants, flowers, and shrubbery. This will help accent the space and make your shed blend in nicely.


Shed Size – An outdoor shed is going to take up some space in your backyard. Before going shed shopping, be sure to measure the area where your shed will be placed. This way, you'll know how much space you'll have to work with and what size sheds to look at.


Shed Purpose – An outdoor shed can serve many purposes, so before investing in one, consider what you'll be using it for. If your shed is simply for storage space, then consider investing in shelving and storage cabinets to better organize all of your stuff and ensure your shed stays clean and orderly.


Shed Building Codes – Before buying a shed, you must consider local building codes and homeowner's association regulations within your area regarding the construction of outdoor structures. Such rules can impact the size of your shed or its placement, therefore, make sure to do your research before buying a shed so you don't run into any issues down the road.


Shed Material – When investing in a shed, don't cut corners when it comes to materials. Particularly with outdoor sheds, this structure is going to have to withstand the environmental demands of your area. Therefore, invest in more qualified materials to prevent the need for repairs in the future.


Shed Placement – Your shed shouldn't just go anywhere in your backyard. Think about why you are investing in a shed. This will have an incredible influence on placement. For example, if you are keeping gardening tools in your shed, you should probably keep it close to your garden. This way, you won't have to walk long, inconvenient distances while working.


Shed Site Preparation – In accordance with shed placement, you should also ensure that the placement site is well-prepared. It is vital that your shed has a structurally sound foundation. If you are not careful and place a shed in an unknowingly compromised part of your backyard, then your shed can be at risk of collapse or potentially sink into the ground.

To ensure proper outdoor shed construction and placement, consult with shed installation professionals at Superior Sheds.
Consider Your Superior Outdoor Storage Shed Supplier
If you're looking for the perfect outdoor shed, look no further than Superior Sheds. We are known for developing all kinds of specialty outdoor structures, from carports to signature shed styles like the bungalow, the country inn, the cabana, and the double-wide shed. Our experienced staff can help customize a shed to fit your building requirements or match you with a shed that suits your specific needs, budget, and style. For more information on our products, including the shed materials, body, roof, trim, and colors we carry, contact us at 1-877-439-7433.