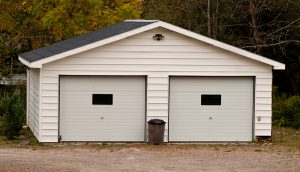 Home renovation and upgrades are on the rise. More homeowners are choosing to improve on their current residences, rather than brave the market and search for a new house. A recent Houzz survey shows that 58% of the homeowners surveyed had done some upgrading or remodeling to their property in 2018.
One important driving factor in the home improvement trend is resale value. Homeowners want to adapt their property to their needs and make their homes more comfortable, modern and secure. But home improvements require a financial investment, and most homeowners weigh in the value-added factor when choosing which home upgrade project to pursue. For property owners who need new or additional garage space, there's good news – this addition can boost your home's market value.
Improving Resale Value with a Detached Garage
The value of your residential property is greatly influenced by the formula used to determine the price per square foot of your house. Your house is more desirable if that number is above the market rate. A garage adds square footage and worth to your property, helping to drive that number up.
Additional garage and storage space are desirable features for most home buyers. They can use the extra space several different ways – offering them convenience and adaptability. With the popularity of today's sharing economy, an increasing number of people are even renting out extra storage space for profit. These benefits highlight the appeal of adding a garage to your property – making it more desirable to you and future home buyers. It's a smart way to add property value.
Superior Sheds Has the Garage for You
Minimize hassle and expense during your garage addition home upgrade project – use the products and services of a reputable outdoor structure manufacturer with more than 20 years of experience in the industry. Our detached garages are custom built to withstand Florida weather. Your new garage will be approved, inspected and certified before it reaches your property, ensuring compliance with Florida building codes.
Learn more about our available garage options here, and give us a call at 877-439-7433 or email us to move forward. Adapt your home to your family's needs with new or additional garage space and add value to your property when you do.