A custom-built shed is an outdoor structure thats size, shape, materials, and features are built to match your specific needs, requirements, and measurements. While custom-built sheds are typically more expensive than prefabricated sheds, they offer a number of advantages.
Custom-Built Shed Benefits
Here are some of the benefits to choosing a custom-built shed over a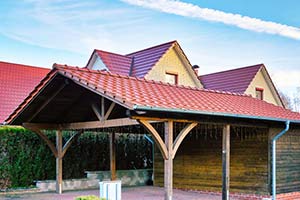 prefabricated shed.
Personalization

Features that are not available on pre-fabricated sheds, like windows, doors, insulation, and electrical wiring, can be added to your custom-built shed. Personalizing your specs will ensure that all your needs are met, leaving you with a functional and stylish shed built from the ground up to meet your exact specifications.

Energy Efficiency

Because you are choosing the materials that will build your custom-built shed, you have the opportunity to select durable, weather-resistant, and energy-efficient materials that will require minimal repair and replacement, saving you a lot of money in the long run.

Increased Curb Appeal

Having a customized shed distinguishes your property from others in the area and can boost your property value and help you sell for a higher selling price.

High Quality

A custom-built shed is made to order, which means that it is built to a higher standard than a prefabricated shed. This means that your custom-built shed is more likely to last longer and require less maintenance.

Versatile Size and Shape

Whether you need a small shed for storage, a larger shed for a home office, or a wide shed for a mancave, a custom-built shed can be built to any measurement you need, allowing you to get the most out of your shed.

Often Affordable

Inexpensive prefabricated sheds might not be of high quality. Therefore, it is important to do your research as many custom-built sheds are available at affordable prices.
At Superior Sheds, we have a range of custom-built shed models, such as the Bungalow, Cabana, Country Inn, and Double & Triple Wide, that serve your every outdoor storage need.
Superior Custom-Built Sheds Near You
From custom-built sheds and steel buildings to gazebos and carports, Superior Sheds provides a variety of options for versatile and spacious outdoor living and storage. Our experienced staff will work with you to create, design, and install the perfect custom-built shed to fit your style, budget, and needs. For more information on the shed body, roof, trim, and colors we carry, call us today at 1-877-439-7433 to discuss your specific building requirements.