Many Americans have either lived somewhere or are currently living in a place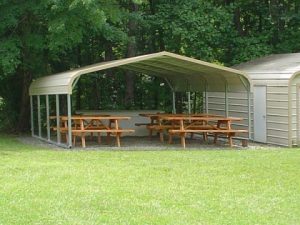 where their possessions sit outside and are exposed to natural elements such as rain, lightning, snow, hail, debris, harsh sun rays, etc.
Having a carport added to your property not only provides cost-effective protection against severe weather conditions, but it can increase the value of your home, double as storage for your vehicles, and more. Read below to discover some of the advantages of owning a carport and see why purchasing one is an excellent investment.
Weather – A carport helps keep your valued possessions protected from the outdoor elements, which keeps them looking nice and performing better. It is also beneficial to have the carport's roof over you to provide shelter when you need to get things out of your vehicle during bad weather. There's nothing worse than having to take out armfuls of groceries from your vehicle while getting drenched from the rainstorm.
Storage – Although people may think of a carport as a place to house cars or trucks, you can actually store other items such as motorcycles, ATVs, boats, motorhomes, tractors, etc., depending on the carport size you choose.
Multi-Purpose – Many families use their carport for shelter during family get-togethers and barbecues. It's easy- just set up some folding tables and chairs, hang some lights around the edges, add some music, food, and drinks, and voila; you have an instant party! Have an avid builder in the family? Use your carport as a workshop and let them get carried away with construction projects.
Portable – If you have a carport that can be relocated later on, you won't have to worry about investing into a product that you may have to leave in the future, or can't move in the event you want to expand your home.
Cost-Effective – While it depends on the size, style, and materials you choose, a lot of times carports are less expensive than a custom garage, shed, or barn. Easy to install, they can cost less in labor costs as well.
Customizable – Having the option to custom build your carport allows you to choose the width, length, and height of your structure, as well as add any additional features you want.
To get started on designing a carport that fits your budget and needs, contact Superior Sheds. Our experienced sales staff can help you create a custom carport, and will guide you through the process from start to finish. Have a specific layout in mind? Call us today at 386-774-9861 or fill out a form online to receive a quote now.