Not every residential home in Ocala, Florida is equipped with a garage;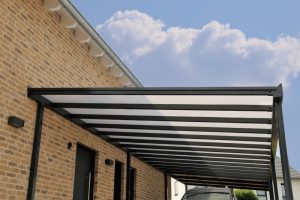 therefore, Florida residents often rely on the useful convenience of carports to both provide themselves with covered accessibility to and from their automobiles and protect their vehicles from the often-unpredictable elements. However, carport installations are multi-functional and provide many additional benefits.
Here are some examples of a carport's versatility and a few reasons why Superior Sheds is the best when it comes to quality carport installations in Ocala, Florida.
The Versatility of Carports
Depending on your needs, wants and, creativity, carports can serve many useful purposes. For instance, carports can be used as:
· Agriculture storage — For farmers, metal carports are often used to store animal feed, straw or hay bales, and extra farm equipment.
· Horticulture homes — Gardening is easy when your carport is converted into a functioning greenhouse that offers protection to plants and other vegetation.
· Outdoors entertaining — Under the shade of a carport, you can entertain your family and friends outside or shield catered food from the elements.
The Benefits of Carports
Carports aren't just for keeping your car, truck, or van away from exposed sunlight and other damaging environmental conditions; they can also provide added benefits that can be advantageous to residents in Ocala and beyond. Additional carport benefits include:
· Customizable aesthetic. From framing and roof type, carports can be designed to match the look of your existing home. For example, tile roofing or color-bonded sheeting are just a couple options that homeowners can choose from that will complement the exterior of their home.
· Reasonably priced installations. Because of the materials used to build a carport, the costs can remain low as compared to the price of building an enclosed garage.
Popular Carport Options
While Superior Sheds offers so many carport options to choose from, the most popular choices include:
· Open Sided Carports — This option is inexpensive and one of the easiest, fastest methods to have installed. Without extra frills, this model will help protect your vehicle from environmental elements such as sun damage, rain, and hail.
· Attached Carports — If you have an existing roofline, attached carports are easy to complete and are a great asset for adding home value.
· Steel/Aluminum Carports — Steel and aluminum are the most preferred and inexpensive types of metal. Steel, which is most commonly used in carport construction, can maintain stability for up to 20 years. Possessing similar qualities, aluminum is light-weight and can be painted any color to your liking.
Customized Carports in Ocala
For over 20 years, Superior Sheds has provided high-quality carport installations to Florida residents. From carports to sheds and gazebos, our professionals ensure each and every installation is designed, constructed, and reinforced to comply with the highest standards and codes. To learn more about our services and how our custom carports can add value to your property, contact us today at 1-877-439-7433