Every city in Florida has a pretty unique climate and environment. That's why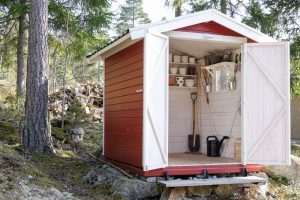 our team at Superior Sheds pays close attention when Palatka residents personally request a specific size or style for their brand-new shed. Keep reading to learn more about why our clients refer to us as the best Palatka shed supplier.
We Stay up to Code
To ensure that each shed installation follows state guidelines and HOA regulations, we monitor building codes, acquire proper permits, and maintain up-to-date licensing. We also manufacture and pre-test each shed in Florida, which means our sheds are built specifically to withstand wind, rain, and shine in The Sunshine State. In fact, no shed leaves our facility without an inspection from our quality control manager.
We Work With You
Our team designs, assembles, and delivers sheds right here in Palatka, but we also take the time to make sure you're involved in every step of the process. Before we even start building, we'll consult you to make sure we've got all the little details just right. And once we've assembled a shed approved by you, we'll deliver it straight to your property.
We Supply a Range of Sheds
There are countless uses for a backyard shed — a storage unit, music studio, or at-home gym — which is why we offer a huge selection of unique designs and different dimensions. From a small, rustic unit to an extra-large shed, we're here to assist you as the best Palatka shed supplier. Some of our most popular shed styles include:
Bungalow — The Bungalow unit is a stylistic option with a hefty amount of space for equipment, furniture, and surplus supplies. With one of our Bungalow sheds, you can customize the entryway, vents, windows, and more.
Cabana — Our Cabana units perfectly fit the tropical Florida theme. Included in each unit are upgrade options for the windows and doors with the option to add a Bahama-style flair to your porch.
Double and Triple Wide — If your need maximum storage, consider a double- or triple-wide shed, which can add over 700 square feet of enclosed space to your yard, so you'll have more room for your most important items.
The Best Palatka Shed Supplier
At Superior Sheds, we know that being the best Palatka shed supplier isn't just about offering the best sheds — it's about offering the best customer service. We've been helping Central Florida residents find the sheds that perfectly fit with their properties for years, and we'd love to help you through every step of the shed selection, construction, and placement process. To get pick out a shed for your Palatka property, give us a call at 1-877-439-7433.