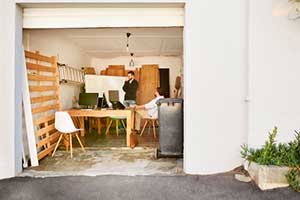 Having a carport is a great way to protect your vehicle from the sun, rain, and other potentially harmful weather conditions. However, a carport's open and exposed design makes it difficult to provide total protection and security for your car. For this reason, many have elected to install garage doors on their carport.
Here are some of the benefits of putting garage doors on your carport.
Benefits of Garage Doors on a Carport
An enclosed carport will protect your vehicle from attempted break ins from both criminals and invasive pests and wildlife.
Affordable and Convenient
One of the best parts about adding garage doors to your carport is its affordability. There are a number of budget-friendly choices of garage doors that you can conveniently choose from, making this a cost-effective and convenient way to create a more secure space for your car.
Adds Value to Your Property
Many add garage doors to their carport for added security, but did you know that adding garage doors to your carport can increase the value of your property? A carport with a garage door is, essentially, a separate garage. Therefore, when you make the investment to add a garage door to your carport, you can gain a return on your investment when you decide to sell your property.
Call a Carport Design Professional
You should contact a professional when considering putting garage doors on an existing carport. Not only will a carport professional be knowledgeable about the specific zoning and permitting laws of your area, but they will also be able to help you pick the garage doors that best match the look and size of your carport.
Find the Perfect Carport for You
If you're looking for a carport that suits your specific needs, style preferences, and budget, then the experts at Superior Sheds can help.
At Superior Sheds, we are dedicated to helping you find the perfect outdoor living structure or storage for your property. We have a vast inventory of versatile and spacious steel buildings, gazebos, sheds, and carports.
For more information on our selection of sturdy, durable, and weather-resistant carports, contact Superior Sheds today at 1-877-439-7433 or email us at info@superiorsheds.com to discuss your building requirements.