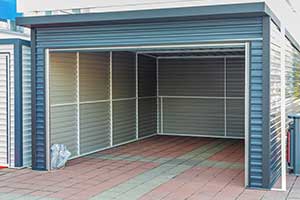 When most people think of a shed, they think of a backyard place to keep gardening tools and the like. However, sheds are actually quite versatile and can serve any number of uses. If your residential or commercial property lacks a garage to house vehicles, equipment, tools, and storage, then it may benefit you to consider installing a shed to use as a stand-in for a garage.
Benefits of Using a Shed as a Garage
When used as a garage, a shed allows you affordable added storage space to park an automobile, lawnmower, or other large equipment. Furthermore, a shed is a significantly cheaper option for extra garage space than adding a permanent garage structure to your property.
Additional Shed Uses
When it comes to shed usage, you are only limited by your creativity. Sheds can also be used in the following creative ways:
Children's Playhouse

Instead of dedicating a room in your house to store toys and games or wasting money on a flimsy kids playhouse, a shed can be converted into an exterior playroom that is exclusively for the kids. A playhouse shed will be a great investment that your kids will treasure, and when they grow up, you can always transform it to provide a different use.

Laundry Room

By running water and electricity, washer and dryer units can easily be installed in a shed in order to create a space on your property exclusively for laundry.

Home Office

Working from home is difficult unless you have a dedicated space to focus. If you don't have room in your home to make a home office, consider installing a shed that you can use as a private office space.
High-Quality and Durable Sheds Near You
If you're looking for a high-quality, durable, and affordable shed, look no further than the available shed models at Superior Sheds.
At Superior Sheds, we have a variety of shed options to fit your specific needs. Our team of experts will help you every step of the way, from designing a shed that suits your style and fits within your budget, to properly installing it on your property.
For more information on the shed bodies, roofs, trims, and colors we carry, give us a call today at 1-877-439-7433 to discuss your specific building requirements.