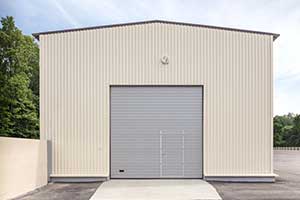 If you live in Florida and want to install an outdoor structure in your backyard, you might be considering a metal building. Metal buildings are a great option for Florida residents because they can be used like a shed but are sturdy enough to withstand harsh weather conditions and can typically self-regulate with extreme changes in temperature.
With such durable features that require little maintenance, you may be wondering how much a metal building will set you back. Here is what you can expect to pay for a metal building and the factors that could affect your cost.
Average Prices of Metal Buildings
As you might expect, the price of your metal building is going to depend on how big it is. Generally, metal buildings cost approximately $15 per square foot, with smaller structures being less expensive and larger structures being more expensive. However, there are a wide range of materials that can be used in the construction of a metal building, and each material will generate a different cost.
The Cost Variables of Metal Buildings
In addition to the size of the building, there are a few other factors that will determine the overall cost of your metal building. These include:
Materials

Different types of steel are more expensive than others. In regard to materials, price will usually correlate with quality. Some materials are as cheap as $6 per square foot, while others are as expensive as $120 per square foot.

Labor

Labor costs will vary depending on who you hire to install your metal building. Someone who does the work for an extraordinarily thrifty fee may not be as reputable or experienced as someone who charges a little more.

Building Requirements

Certain areas require different building requirements, which may affect the price of installation. Be sure to check your local zoning laws before moving forward with the building of any structure on your property.

Your Location

Metal buildings that need to withstand certain weather conditions will need to be equipped to do so. Such reinforcements can raise the price of your metal building.
If you're interested in purchasing a metal building that won't break your budget, call the experts at Superior Sheds.
Budget-friendly Metal Buildings Available Near You
From metal buildings to sheds, the pros at Superior Sheds can help you design the perfect outdoor structure to fit your specific needs, style preferences, and budget. Our metal buildings are large, sturdy, durable, and weather resistant. For more information on our available bodies, roofs, trims, and colors, contact Superior Sheds today at 1-877-439-7433 to discus your specific building requirements.