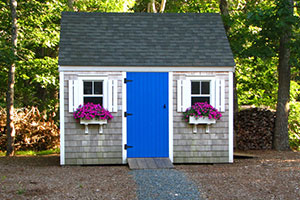 A wooden, metal, or plastic backyard shed can help alleviate storage issues and free up space on your property to make your home feel less cluttered and overstuffed. However, deciding which type of shed material is right for you, your property, and your possessions can become a difficult choice. Ultimately, the material you select should be compatible with where you live and able to accommodate your specific storage needs.
Here are some of the most popular types of sheds available and the benefits of each.
Common Types of Sheds
Typically made of spruce, pine, fir, or cedar, wooden sheds are typically considered to have the best curb appeal, giving your property an appealing, rustic look. In addition to being beautiful, the classic shed option is also highly customizable compared to other shed types, making them a great choice if you have a specific aesthetic in mind.
Furthermore, wooden sheds are a great option for those who have a particular budget in mind as there are many different wood types to choose from that are significantly less expensive than others. Just keep in mind that wooden sheds are vulnerable to rot and require extra preparation and care in order for the material to withstand certain weather conditions.
If you live in an area with strong winds, a metal shed is a good option to consider because the heavy, wind- and rot-resistant material guarantees that it won't be knocked over by strong storms. When properly maintained, metal sheds are also known to provide the most longevity. However, if not maintained, metal sheds can rust, reducing their lifespan.
Often made of fire-resistant vinyl material, plastic sheds are a great option for those who live in remote areas prone to wildfires. They are also quite durable, weather resistant, and easy to construct and install. Furthermore, they are quite easy to clean and maintain. While plastic sheds don't always look as beautiful, especially when compared to other types of sheds, they are often the most affordable.
If you're looking for a shed to suit your specific needs, take a trip to Superior Sheds and discuss your specific building requirements, style, and budget needs with one of our shed design experts.
Find All Types of Sheds at Superior Sheds
At Superior Sheds, we provide a wide variety of different sheds types to accommodate your every need, From our Bungalow, Country Inn, and Cabana sheds to our Double and Triple Wide models, each of our sheds are available in different bodies, roofs, trims, and colors to give you the optimal outdoor living and storage structure.
To start designing your ideal shed, call Superior Sheds today at 1-877-439-7433.