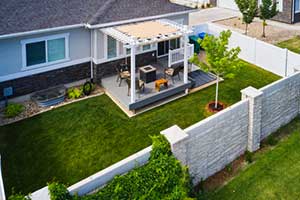 Adding a pergola to your home is great for transforming your outdoor space into a relaxing and entertaining area for your family and friends to sit and enjoy the outdoors. Pergolas are commonly known for their open and pillared structure with lattice frameworks covered in vines or vegetation. Homeowners usually install pergolas above their deck to create a relaxing spot outside for those breezy days and warmer weather; although, they are also great for those who have a green thumb and want to surround themselves with plants.
However, if you have thought about building a pergola for your home, you will need a permit before you start building one on your Florida property.
What You Need to Build a Pergola in Florida
Just like all other permitted home projects, getting a permit is required to ensure that the construction of your pergola is safe and stable. If you don't obtain a building permit for your pergola, the repercussions will haunt you when you decide to sell your home and could result in its destruction. Therefore, it's better to start right from the beginning by applying for a permit before you build a pergola in Florida. Pergola
What Permit Do I Need to Build a Pergola in Florida?
In Florida, permits pertaining to the erection of outdoor structures vary from state to county to city, so check your local requirements to know which permit to apply for. The best way you can avoid any repercussions is by asking your local government or HOA any questions you have regarding the pergola you want to build on your property.
Ultimately, everything depends on the type of pergola you intend to build: either an attached pergola or freestanding pergola. For example, the code for a freestanding pergola requires homeowners to dig a concrete footing to make the structure stable. There are also different codes for the materials you plan to build a pergola in Florida out of. For instance, aluminum pergolas have a different code from wooden pergolas.
Build a Pergola in Florida with Superior Sheds
Whether you want a pergola or a shed, Superior Sheds has a variety of sturdy, durable, and weather-resistant outdoor structures available to help transform your Central Florida property. We have an experienced staff that will help you design and install the perfect outdoor structure to fit your style, budget and needs.
For more information on the pergola options we provide, call us today at 1-877-439-7433 or email us to discuss your specific building requirements.