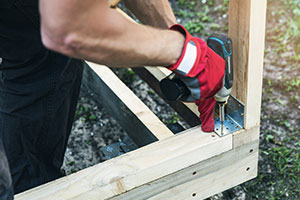 Installing a shed can provide you with a multitude of benefits. Not only are sheds a great place to store outdoor items, but they can also add additional property value to your home. However, installing a shed requires a little bit of planning, and that can often include building a foundation.
Here is what you need to know about whether or not the shed that you intend to build on your property needs a foundation.
Determining the Foundational Need for Sheds
Consider the following questions before constructing a shed on your property:
Does Your Property Slope?
Whether or not you will need a foundation will depend on if the location where your shed is to be placed is flat or sloped. If the slope of your property is significantly steep, then your shed will need a foundation to keep it level and sturdy. However, if the slope of your backyard is minimal, then you may not need to lay a foundation. A good way to determine this, of course, is to examine your property and consult your local requirements, regulations, and restrictions for building structures in your area.
Another big factor in the need for a foundation is the size of your desired shed. Sheds that are larger or weigh more tend to require a strong foundation, while smaller and lighter sheds may not. Again, this is a good time to check the permitting requirements in your area to see at what shed sizes and weights need a foundation.
The Bottom Line on Sheds and Foundations
At the end of the day, whether or not the shed you intend to build needs a foundation depends on your specific shed type and the condition of your property. If you need help choosing the right shed type for your property, contact the shed experts at Superior Sheds.
Reliable, Sturdy, and Quality Sheds in Central Florida
At Superior Sheds, we provide everything from high-quality sheds and steel buildings to garages, gazebos, and carports. Our spacious and versatile outdoor living and storage spaces include a number of different shed models, such as the Bungalow, Cabana, and Country Inn.
Our team of experienced staff members will help you design the perfect shed for your style, budget, and individual needs. We'll also install your shed from its foundation to its rooftop, making the entire process easy, streamlined, and affordable.
For more information on our available shed bodies, roofs, trims, and colors, contact Superior Sheds today at 1-877-439-7433 to start discussing your specific building requirements.