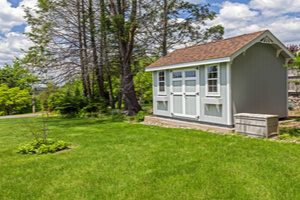 When searching for a new place to live, homebuyers take into consideration every square inch that properties have to offer. If your property is not very spacious, having an attractive, versatile, and sizable shed in your backyard could be the deciding factor between a potential homeowner buying your home or another property on the market. A shed can even help to increase your asking price when you decide it's time to sell. In fact, some professionals estimate that a new shed could add as much as $15,000 to your property's price tag. Here are some ways that owning a shed can add value to your home.
The Home Value Boosting Benefits of a Shed
Priceless Storage Space –Behind every home-buying operation, there is—without fail—an overwhelmingly messy moving process. As homebuyers look to sort out their chaotic mountain of boxes and packed goods, they will value the amount of storage space that your on-property shed can provide. Therefore, your new shed could be the defining selling point, offering future homebuyers the storage room they need. Their stressful and disorganized moving process will be settled as your shed's space restores the order in their life.
Convenient Outdoor Organization – For the many prospective homebuyers that are interested in gardening, the capacity to store their gardening tools and materials would be extremely valuable. As you have likely found out the hard way, a shed's extra storing room can mark the difference between a tidy and a messy garage. However you look at it, owning a shed would expand your house's space—and this extra space translates to added value in the housing market.
Spacious Versatility – A shed's purpose is not exclusive to storing garden tools, lawnmowers, and accumulated junk. Your investment could take the form of private office space, a room for meditation, or even a small guest room. This capacity for transformation would make your shed priceless and add higher value to your home for a lot of potential homebuyers—motivating their commitment to buy your house.
A Lovely Aesthetic – Beauty moves the world, and homes are not exempt from this rule. A potential homebuyer's first impression of your home will largely depend on how it looks. A high-quality shed built to match your home's color, style, and trim could add a wonderful aesthetic component that complements your home. This visual addition alone could captivate your buyers and determine their decision to choose your house over others.
Be Wary of Cheap Sheds
It is also important to consider that low-quality sheds could be a burden to your home value. A hardly maintained and worn-down shed that does not match your home's look could come in the way of your property's sale. Potential buyers will not want to deal with the cost of fixing or remedying the situation. Even more important than looks are documents: A shed built without a permit also turns into a legal liability that homebuyers will want to avoid, so be sure to buy a value-adding shed from the professionals at Superior Sheds.
Enhance Your Home Value With Superior Sheds
If you want your future shed to complement and boost your property's value, look no further than Superior Sheds. Our many types of wooden, vinyl and metal shed come in all the colors, shapes, and sizes that you can think of. For more information, contact us by calling 1-877-439-7433 or fill out our quote form and we can discuss your specific building requirements.