If the storage space that a single wide shed offers isn't enough for what you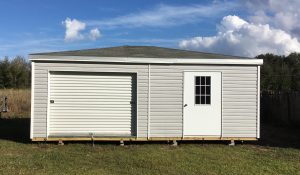 need, Superior Sheds offers three double-wide models. Choose from either our Bungalow, Country Inn, or Cabana styles. We can build your shed as large as 20' X 36' giving you 720 square feet of building. And, with 90" of sidewall, you will receive even more overhead space.
With a double-wide shed, you will be able to achieve multiple goals. Free up space in your home, save money by getting rid of your self-storage facility, or designate an area exclusively for a game room or workshop. You can even use your shed to house your vehicles. It's all up to you how you want to use it!
Our double-wide sheds are prefabricated in the controlled environment of our factory, separated for transport, and then put back together at your residence or place of business. If you're looking for a storage solution that not only gives you lots of space but that you can get delivered and installed quickly and for a great price, then a prefabricated shed is the way to go!
When it comes to solving your storage problems, work with a company who has built thousands of attractive and functional sheds, manufactured to withstand the harshest climates. At Superior Sheds, we take pride in what we do. All of our products are approved, inspected, and certified before ever leaving our factory. Call us today at 1-877-439-7433 to find out how you can begin the process of customizing a double-wide shed for your property.