Spring, the season of new beginnings, is the time when flowers bloom, animals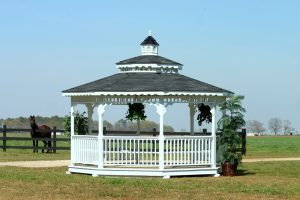 wake, and temperatures begin to warm up. What better way to enjoy nature's beauty than to add a gazebo to your outdoor space?
Gazebos are a great way to expand your outdoor living space by giving you and your family a place to relax while sheltering you from elements such as bugs, rain, and strong sunshine. They are perfect for providing you with coverage while you enjoy outdoor activities such as dining, grilling, enjoying your hot tub, and watching your kids play.
With so many design options to choose from, you can create a gazebo that coordinates perfectly with the outside of your home. Start by selecting whether you would prefer a square, oblong, or octagon model and then pick out a roof made of metal, shingles, or cedar.
For added protection, seal or paint your gazebo, and screen it to keep the insects out. The screen will come in handy especially during Florida summer's when the weather becomes humid, and the mosquitos are out in full force.
With the size of households increasing, and the inside space of those residential homes decreasing, it can be hard to find a place to get away from the daily stress. So, if you've been dreaming of creating a private space to use as a getaway on your own property, let Superior Sheds help you bring your vision to life.
We use pressure treated southern yellow pine and can help you customize your gazebo to fit your style and yard space. Once your gazebo is built, we transport it to you and place it where you want it using our stress-free installation process. Our Superior installers will then ensure your gazebo is blocked and anchored so you can rest sure that it won't go anywhere even through the worst conditions.
Super Sheds manufactures all of our products to meet Florida's building codes, and our gazebos are built to withstand 150mph wind loads. To begin enjoying your gazebo this spring and all of the seasons following, contact us today by calling 386-774-9861 or fill out our form online.