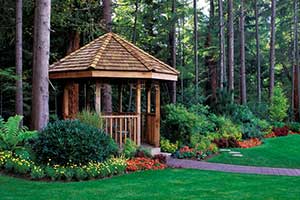 A gazebo is a popular statement piece for Southern backyards that is versatile in its functionality and stylish in appearance. Mainly constructed for covered outdoor protection from the sun and other weather conditions, gazebos come in many different styles. Before investing in such a traditionally charming structure, however, it is important to do your research so that you get a gazebo that fits your specific needs. Here is everything you need to know about gazebos for your Florida home.
The Purpose of a Gazebo
A gazebo is similar to other outdoor structures in the way that it provides protection from elements such as rain, hail, and heat. However, gazebos are unique in their standalone, open-air design—offering properties a quiet place to relax and enjoy tranquility among nature. Aside from their practical uses, gazebos are a stylistic way to add social opportunity to your backyard. Whether you want somewhere to host a small outdoor dinner party or ceremony, would like a place to lounge and spend quality time with your family outside, or simply want to add a touch of elegance to your backyard with a smaller structure that matches your home, gazebos allow for all that and more.
The Types of Gazebos
There are two types of gazebos that can be installed into your backyard, both varying in the material. The two common types of gazebos include:
Portable

Portable gazebos differ in material from traditionally built gazebos. These structures have metal poles, a fabric roof, no floor, and open sides. They are commonly placed over a grill or patio and are less durable and weather-resistant than traditional models.

Permanent

Permanent gazebos are installed with the intent of long-term use. Being garden structures, they are typically made of either wood, plastic, or composite materials with a shingle, cedar, or metal roof. These structures are anchored to the ground and can be sealed or painted to resist harsh weather conditions. They are also built with flooring and seating options.
Custom Gazebo Selection and Design Options
When purchasing a gazebo, the first step is to decide which level of permanence you desire. From there, the sky is the limit on style and size—depending on your community guidelines or HOA restrictions.
Once you have an idea of the type of permanent gazebo you want, the best course of action is to contact a local gazebo manufacturer to help you design and install the perfect structure to fit your style, budget, and needs. The experts at Superior Sheds can get the job done efficiently, ensure that your gazebo will be installed in a timely fashion, and deliver the highest standard of quality craftsmanship.
Your Local Gazebo Installation Professionals
Superior Sheds offers gazebos in square, oblong, and octagon models for comfortable outdoor or backyard living. For more information on the gazebo body, roof, trim, and colors we carry, speak to our experienced staff by calling 1-877-439-7433 or email us to discuss your specific building requirements.