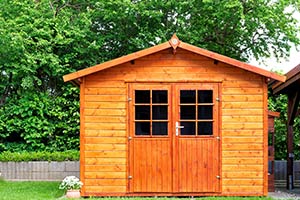 When you invest in an outdoor structure, like a shed, you're going to want it to last a long time. While most sheds already enjoy long lifespans, there are ways that you can extend its longevity to see a higher return on your investment. Here are some ways you can potentially increase the lifespan of a shed.
Tips to Extend the Lifespan of a Shed
To ensure your shed lasts for years, you should:
Inspect your shed regularly.

In the first few years of its life, your shed should steadily provide secure outdoor storage. However, if it regularly faces extreme weather conditions, then it should be inspected to ensure there are no signs of damage. If any significant damage occurs during those early warranty years, then be sure to get it properly repaired or replaced while you are still within the coverage window.


Maintain the roof of your shed.

While your shed's roof should be able to withstand hail, heavy rain, and high winds, it still needs a little T.L.C. from time to time, just like any structure. If you notice dirt, branches, or debris piling up on top of your shed, clear it off as soon as possible as it can lead to pooled water or collapse. After all, once the roof of your shed goes down, the rest of the shed will soon follow.


Prevent pest infestations.

The key to extending your shed's life is ensuring that its infrastructure is kept secure. One of the biggest threats to a strong shed infrastructure is pests. Pests like termites and rodents can easily chew into your shed's walls and compromise its structure by creating little holes all throughout its material. Great methods to keep pests out of your shed include sealing gaps and holes with caulk, spraying entry points with a barrier of pesticide, or placing overwhelming scents that pests hate, like mint, inside your shed to deter them away.
If you are on the market for a custom-built shed that will last you for many years to come, then contact the shed-building professionals at Superior Sheds.
Long-lasting, Custom-built Sheds Near You
At Superior Sheds, we can provide you with a variety of customized outdoor structures to fit your every need. Our steel buildings, gazebos, carports, and sheds are versatile, spacious, and sturdy. Some of our long-lasting, durable shed models include:
The experienced staff members at Superior Sheds will work with you to design a customized shed that fits your specific style, function, and building requirements. For more information on our shed trim, color, and design options, contact Superior Sheds today at 1-877-439-7433.