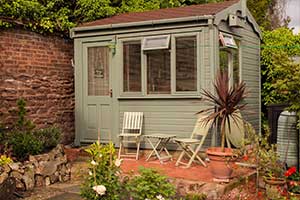 The age of dingy, musty, basement man caves have come and gone—and quite frankly, it's about time. Nowadays, the best place for at-home revelry, game nights, and general rowdiness is in the backyard. However, if you're looking to up your game as a pioneer of new house party-hosting frontiers, no space mixes ingenuity with tomfoolery quite like the backyard bar shed.
Transforming Your Regular Shed Into a Bar Shed
If you already have a shed, the first order of business is choosing a theme or general design concept. An English pub, biker bar or ski resort are just a few of the most popular possibilities.
The basic steps to transforming your worn out, old shed into a hip, cool bar shed should look like this:
● Exterior refresh. Throw on a fresh coat of paint on the outside, stain the surrounding concrete, lay stones and give your landscaping a facelift.
● Interior flip. Clean the shed thoroughly, and paint and stain interior concrete.
● Decorate. Depending on your chosen theme, this part can go a variety of different directions: traditional pub with dartboard, sports bar with flatscreen, or comfy dive bar with a couch. Whatever you choose, make sure to roll in a roomy bartop with stools at the end for serving.
Beyond the basics, you can go as big or small with your bar shed project as you like. Feeling adventurous? Add a patio or deck area to your shed for the ultimate outdoor hangout spot.
No Shed, No Problem
If you don't already have a shed, Superior Sheds is ready to make your bar shed dream a reality. We've chosen our favorite shed options for flipping and sipping.
● The Bungalow – If you're a traditionalist when it comes to pub design, The Bungalow is for you. Classic and spacious, this shed is perfect for a classic bar look.
● The Country Inn – If you're going for a western-style saloon or an alpine watering hole aesthetic, this shed checks all the boxes for a more rustic look.
Your Local Superior Shed Supplier
Whether your latest backyard project calls for a bar or just some storage space, Superior Sheds provides all kinds of sheds for comfortable outdoor or backyard living. Our experienced staff can help you design and install the perfect structure to fit your style, budget, and needs. For more information on the body, roof, trim, and colors we carry, contact us by calling 1-877-439-7433 or email us here to discuss your specific building requirements.