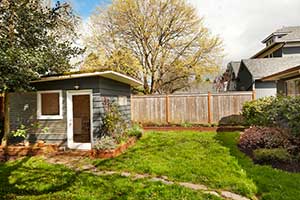 A shed can be a useful structure for storing important outdoor items that can also help enhance your Florida property. However, your belongings may require more storage space than a single shed can provide. Before you jump into purchasing an additional shed, it is important to know that there are many rules and regulations surrounding shed installation in Florida.
If you have a shed on your Florida property and are looking to install another one, here is what you need to know about the Sunshine State's shed permitting rules regarding how many sheds you can have on your property.
Understanding Florida Shed Permit Rules
When considering a shed installation on your property, you may be wondering whether you need to get a permit to build it or not. For standard sheds, needing a permit depends on where you live. Permitting rules vary by county in Florida, so be sure to look at your local laws and community HOA guidelines before installing anything. In particular, you should seek out the zoning laws in your area because even if you do not need a permit to build the structure, you will likely need to get an inspection of your property to ensure the land will be able to hold up the structure. This is incredibly important in Florida because sinkholes are so common. Additionally, you will most definitely need a permit if you are planning to install plumbing or run electricity in your shed.
Determining How Many Sheds You Can Have
How many sheds, or other structures, you can have depends on a few distinct factors. These include, but are not limited to:
Your county – As stated above, FL rules regarding sheds vary by county. A county in a more rural area may allow you to have as many sheds as you want, while another more populated county may limit you to only one. Check your local laws before starting the shed building
Your HOA status – If you live in an area with an HOA, there is likely a rule in the HOA handbook regarding sheds. Be sure to reference that before installing anything on your property in order to avoid penalty fees. If you are allowed to build a shed on your property, your HOA handbook will also likely tell you how many you can have.
Your High-Quality Central Florida Shed Supplier
A shed is a structure that needs to reliably protect your items from the outside elements and can withstand the full breadth of Florida's extreme weather conditions. If you are looking to install a durable and dependable shed on your Florida property, then check out the incredible selection of study and high-quality shed models available at Superior Sheds.
Whether you want a bungalow, cabana, country inn, or double-wide shed, one of our experts will help you design and install a shed that perfectly fits your needs, style, and budget. For more information on our impressive selection of sheds, call Superior Sheds today at 1-877-439-7433.