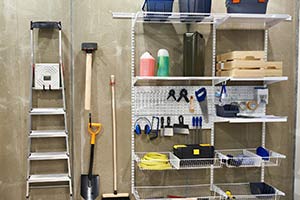 These days, sheds are used for far more than just storage. However, if you want to use your Florida shed as a home office, man cave, she shed, or other type of living space, you'll have to insulate it to ensure it is comfortably climate-controlled. Here are some of the different types of shed insulations you could consider and the tools you'll need to gather to insulate a shed.
Types of Shed Insulation
Also known as rolled fiberglass insulation, batt insulation is a commonly recognized type of insulation due to its pink and plush texture. It is a great option if you're looking for a cheaper material that will still be effective at insulating your shed. However, batt insulation contains small pieces of fiberglass that will require you to wear skin-protecting safety gear during installation.
If your shed needs to be insulated for sound-sensitive activities like music recording, then you should invest in mineral wool insulation. The thick insulating material serves as an excellent sound barrier and is also fire-resistant. However, mineral wool insulation is typically more expensive than batt insulation, so you'll end up paying a little bit more to ensure that sound does not escape your shed.
Tools Needed to Insulate a Shed
In addition to your insulation material, you'll need a few different tools to insulate your shed.
Caulking gun and silicone caulk
Drill
Facemask
Insulation knife and utility knife
Ladder
Safety goggles and gloves
Straightedge and tape measure
Staple gun and adhesive
Insulating a shed on your own can be a difficult task, especially in the Florida heat. If you're looking for a sound and climate-controlled shed for your Central Florida property, then contact Superior Sheds to have one professionally insulated and installed.
Professionally Insulated Shed Models in Central Florida
At Superior Sheds, we can help you find the perfect outdoor building to fit your specific needs, style, and budget. We offer a variety of insulated and customizable shed models, including the Bungalow, Cabana, and Country Inn, among others. You can have your pick from our vast inventory of shed bodies, roofs, trims, and colors to complete your ideal backyard living space.
For more information on our versatile and spacious outdoor living and storage structures, call Superior Sheds at 1-877-439-7433 and discuss your specific building requirements with one of our qualified staff members.