Your perfect shed size depends on whether you'll simply be using it to stow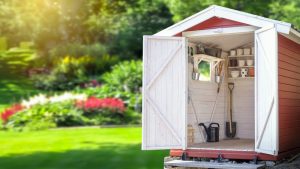 away your lawn mower and a few gardening supplies or to house your 18-footer when it's not on the water. However, if you still aren't sure exactly what you want to use your shed for, here's a breakdown of how each size can benefit your belongings.
Small Shed
Typically offered in sizes as small as 6' wide, small sheds are great for novice gardeners, minimalists, and families with conservative yards. These additions can hold a decent amount of goods without taking up a ton of your outdoor environment. And, even if you don't have the budget or yard space to commit to a larger size, you can always extend your shed with accessories and quality fixtures.
Medium Shed
If you've got a few large lawn tools but aren't ready to commit to a large outdoor addition, you'll probably be happy with an average-sized shed. You can easily store larger pieces of equipment, like ride mowers, and still have enough space to harbor your gardening tools, crafts, or seasonal supplies until the right time rolls around.
Large Shed
Large sheds are ideal for those who want a lot of creative freedom. Whether you want to design your own personal workshop or need a place to safely store your prized collections, large sheds are the perfect space for hobbies of all shapes and sizes. Of course, these additions will cost more than smaller versions, but they are a strong, long-term investment for homeowners who want endless options with their addition.
Tips for Sheds of All Sizes
No matter what kind of shed you're thinking of bringing to your backyard, here are some tips to consider with your installation.
Always choose a custom-built shed. Pre-made kits are the shortcuts of the shed world; they're cheap, unsafe, and not built to last.
Carefully consider the style of shed you want. Examine the atmosphere of your home and yard before choosing a shed, because it can easily match or mess with your existing aesthetic.
Think about whether you'll need electric installation. If you're planning to purchase a larger shed for a hobby room or workspace, consider the added costs of electric installation.
Small, Medium, and Large Sheds for Sale in Central Florida
At Superior Sheds, we have a wide range of small, medium, and large sheds for sale. Custom-built to fit your yard, budget, and style, each of our sheds are designed to withstand unpredictable Florida weather. And, we'll safely deliver and install your addition right to your home. To learn more about our shed services, contact the team at Superior Sheds today.