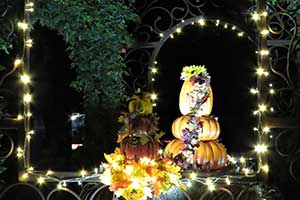 When Halloween rolls around, the best way to get in the spirit of the spooky season is to buy candy, plan a scary costume, and decorate your home for trick-or-treaters. However, one way to make this Halloween a memorable one for you and your neighbors is by transforming your gazebo into a haunted house. Of course, such an ambitious undertaking will require planning and plenty of spooky décors. To help you along, here are a number of exciting ways to turn your gazebo into a haunted house that will get the neighborhood kids talking.
Creating a Memorable Haunted Gazebo
Here are a few ideas to turn your gazebo into an absolutely terrifying experience that everyone will love.
"The Boneyard"

An all-time classic haunted house theme, the boneyard is an immersive Halloween experience. Decorate your gazebo in fake cobweb netting and layout an old (preferably red) rug and on the ground so that it creates a path leading up to your gazebo. Place some twigs or even hard pretzel sticks underneath the rug to replicate the sound of bones snapping. Tell your visitors about the scary history of your property, and of course, be sure to let them know about the mysterious bones lying around.

"Haunted Graveyard"

To create the perfect haunted graveyard in front of your gazebo, grab some old pieces of cardboard and trace the shape of tombstones onto it using a marker. Just like carving out a pumpkin, cut out the tombstone shape, paint them, and then come up with fun and scary or personalized names that will be sure to grab your guests' attention.

"Ghost Bowling"

Perfect for a kids' Halloween party, a ghost bowling gazebo is one of the easiest projects to do because everything you need can probably be found somewhere around the house. Wrap a basketball with gauze and paste some googly eyes on it. Then, glue some white cotton batting or felt ghosts onto the side of six plastic 2-liter soda bottles. Don't forget to draw black circles to make the eyes and mouth. When done, set them up and let the kids knock them down.

"The Gazebo Pumpkin"

Most gazebos are built in a rounded shape, making it the perfect structure to turn into a great pumpkin. Start by placing large orange sheets or plastic sheeting over the outside of your gazebo and then illuminate it from the inside with exterior lighting.
All of these ideas can be combined together with spooky music for added thrills; however, if you don't have a gazebo or your existing gazebo is in disrepair, then you shouldn't wait until October to consider upgrading to a new gazebo for your property.
Rely on Superior Sheds for All Your Gazebo Needs
The professionals at Superior Sheds provide all kinds of gazebos for comfortable outdoor or backyard living. Whether you want a square, oblong, or octagon model gazebo with metal, shingle, or cedar roof of your choice, our experienced staff can help you design and install the perfect structure to fit your style, budget, and needs.
For more information on the body, roof, trim, and colors we carry, contact us by calling 1-877-439-7433 or email us at info@superiorsheds.com to discuss your specific building requirements.