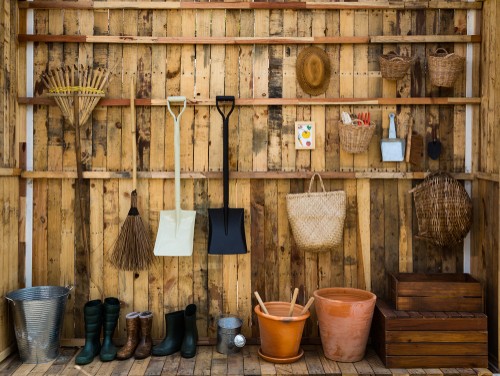 If you're like most people, you have a little too much stuff. That means it can be difficult to locate what you need among the pile of "treasures" you've amassed in your garage or shed. Fortunately, you don't have to get rid of half of your belongings just to bring some order to the mess. You simply need to employ a few organizing tips.
Tips for organizing your shed
Make it easy to store your tools. If it's too hard to put your tools away after you use them, they will all end up in a pile on your work table. It's sad but true. Avoid this situation by installing hooks and easy-to-reach shelving with designated places for all of your favorite tools.
Build or buy a cart. A mobile cart, similar to a kitchen island can hold all of the tools and equipment you use most often and can be wheeled to wherever you are working. When you are finished with your project, you can simply wheel the cart back into the shed. Everything is already put away.
Give old bookcases a new life. Bookcases are frequently found at good prices at garage sales since ebooks are somewhat replacing paper books in American life. However, a $10 or $20 well-worn, wooden bookcase can provide sturdy storage for garden supplies, jars of nuts and bolts and other workshop essentials.
Put your shed doors to use. Don't ignore your shed doors as potential storage places. You can install pegboard on the inside of the doors and hang lightweight tools like garden trowels, bulb augers, clippers and extension cords.
To learn more about optimizing the space in your shed, carport, cabana or outside storage space, call Superior Sheds of Orange City, Florida at 877-439-7433. We've been helping area homeowners like you with their outdoor storage needs for more than 25 yrs.