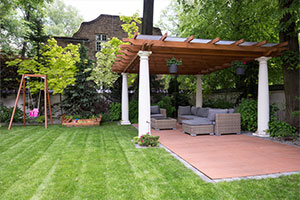 A gazebo is a great addition to your Central Florida backyard if you like to enjoy the beautiful weather outdoors, but prefer to stay out of the sun. If maintained and cared for, your gazebo can last decades. Here are some gazebo care tips to help keep your grand gazebo looking gorgeous right outside your home.
Gazebo Care and Maintenance Tips
At least once a year, use a garden hose to rinse any built-up grime off the gazebo. Use mild soap, warm water, and a soft brush to scrub the railings, posts, roof, and floor free of pollen and dirt that could stain the gazebo.
Remove leaves, twigs, and other debris from the gazebo's roof every few months. Instead of standing on the roof of the gazebo and using a leaf blower, climb a sturdy ladder and use a broom to reach and clear the debris.
If you have a natural-wood gazebo, use a paintbrush to apply a waterproof sealant to it every few years. A sealant will protect the gazebo's material from defects and keep the wood strong. If your gazebo is painted, scrape off the old paint and repaint, as needed, to keep it looking its best.

Inspect the gazebo's interior and exterior each month during spring and summer for insect nests and webs. Use a long-handled broom to remove webs and spray any wasp's nests with insecticide.
Keep your gazebo beautiful and clean with the help of Superior Sheds. Our customizable gazebo options ensure you get a gorgeous addition that completes your property. You can choose from a variety of seating options and wood stains, or have your gazebo sealed or painted for added protection. We offer metal, shingle, or cedar roof options in a variety of shapes. Whether it be a square, oblong, or octagon model, all our gazebos are built with the industry's best pressure treated lumber. If you want bugs and insects kept out, we can even screen in your gazebo.
Contact Superior Sheds for All Your Gazebo Care Needs
From sheds and steel buildings to gazebos and carports, Superior Sheds provides a variety of options for versatile and spacious outdoor living and storage. Our experienced staff can help you design and install the perfect structure to fit your style, budget, and needs. For more information on the gazebos we carry, call us today at 1-877-439-7433 to discuss your specific building requirements.