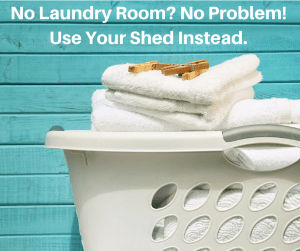 Are you tired of having to drag your laundry down to a laundry mat on the weekends? Maybe you've thought about installing a laundry room into your home, but there isn't enough space? If so, there is a way to get the laundry room you've been wanting without trying to sacrifice space in your home. You can create the laundry room of your dreams by simply purchasing a shed to use instead.
Sheds Are Multipurpose
Sheds have been used for a multitude of things other than storing garden tools and lawn equipment such as home offices, playhouses for kids, and even man caves, so why not use your shed for a laundry room? If you're looking to add a laundry room to your home but don't have the space, consider these tips to help you create the perfect laundry room inside your shed.
Pick the right washer and dryer combo. You want to maximize the inside space of your shed, so you have plenty of room. Try purchasing units that are meant for smaller spaces or that give you more flexibility. Front loading machines allow you to set them side-by-side to create a workspace on top. You can also stack them on top of each other, so you have more floor to ceiling space throughout the rest of the shed.
Install a utility sink. Having a small sink installed will allow you to clean off stains or wash garments by hand.
Create custom cabinets and counters. Since standard cabinets and counters may not be available for your shed, you may have to customize them. Install a counter, so you have a place to put laundry down to fold, and cabinets for a place to store clothing items such as fabric softener, laundry soap, and dryer sheets.
Hang an ironing board on the door. Purchase a smaller sized ironing board and install it on the inside of your shed door so that it stays folded until you are ready to use it.
Let Us Help You Simplify Your Laundry Routine
If you have enough space for a laundry room on your property but not in your home, let Superior Sheds help you simplify your laundry routine. Busy families shouldn't have to waste their weekends sitting at a laundry mat. We have a variety of sheds to suit every family's specific needs. Check out our different shed styles such as our cabana shed, which looks beautiful and has a spacious feel inside due to its vaulted ceilings. Our products are long lasting and dependable. Call us today at 386-774-9861 or complete the form online to get a quote and let us help you pick out the perfect shed to use for your laundry room.