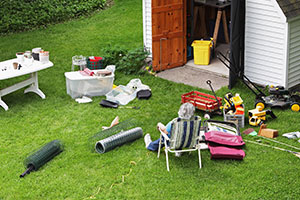 Outdoor storage sheds provide a place to safely store your tools, lawn equipment, and gardening supplies. However, these sheds can quickly become cluttered and unorganized, making it hard to locate the items you need safely and efficiently. We have compiled a list to help. Here are five tips to keep your outdoor storage sheds nice, tidy, and organized.
Outdoor Storage Sheds Organization Tips
Install a Gardening Tool Organizer

When thinking of outdoor storage sheds, the first thing to come to mind is how many tools, specifically garden tools, can fall over if they're not secured. A gardening organizer fixes this problem. Hang up yard tools like rakes, shovels, and pitchforks to keep them off your shed floor and out of your way. The tool organizer can be attached to a wall, and you can label each spot to place all your yard tools in their designated space.



Store Tools on a Pegboard

Pegboards provide a home for your smaller gardening and work-shed tools. Pegboards have hooks to hang tools such as hammers, hand saws, and pliers. This organization method frees up counter space and keeps you from searching through drawer after drawer looking for your tools.



Use Storage Bins for Chemicals

Chemical products such as weed killers, paint, pesticides, and diesel are commonly placed in outdoor storage sheds, making it a hazardous location for pets and children. Keep your shed safe by using storage bins for these products. Heavy, plastic storage bins will seal away toxic and flammable chemicals while allowing them to be stored on a shelf away and out of reach. Label your storage bins to identify where your chemicals are stored. Most importantly, keep chemicals out of direct sunlight and in their original containers. If fertilizer or fuel is stored in your outdoor shed, ensure they're ventilated and separately stored.



Set Up Hose and Cord Organizers

Garden hoses, extension cords, and wires are commonly found in outdoor storage sheds, on the floor, or tangled in a corner. Eliminate the possibility of tripping over these items by hanging them in your shed. Use secured hooks, shelving units, or PVC pipe to hang various cords. Not only will you clear up space on the floor, but you will prevent tangling and knots, making these tools easily accessible and ready to use.



Install Open Shelving
A great tip for organizing outdoor storage sheds is to utilize open shelving. Install or purchase shelves that can hold storage bins. Apply labels to each storage bin and make navigating the shed easier. Open shelving provides a more spacious feel and is ideal for storing related items in one location.
Find Superior Outdoor Storage Sheds
We provide multiple options for versatile and spacious outdoor living and storage at Superior Sheds. Our experienced staff can help you design and install the perfect structure to fit your style, budget, and needs. For more information on the outdoor storage shed body, roof, trim, and colors we carry, contact us by calling 1-877-439-7433 or emailing us at info@superiorsheds.com to discuss your specific building requirements.