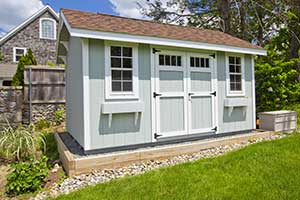 If you find your backyard regularly gets overwhelmed with equipment, tools, toys, and other clutter, then perhaps a simple outdoor storage shed is what you need to alleviate some of the mess. Not only can an outdoor storage shed provide you with extra space to store your items, but it can also be designed to complement your existing home. Furthermore, an outdoor storage shed can really complete your backyard by becoming a place to work on projects or an outdoor escape to grab some personal privacy.
To get the most out of your space, here are some simple and clever ideas for increasing the effectiveness of your outdoor storage shed.
Maximizing Your Outdoor Storage Shed
If you have a lot of things to store, then you might appreciate and consider investing in some of these clever outdoor storage shed ideas:
Exterior Shelving

Just like you can add shelves to the walls of your house, you can do the same to your outdoor storage shed. Shelving is a quick and simple way to organize your lawn and garden tools, supplies, and more. Not only do shelves save space and keep your necessities off the ground and out of the dirt and mud, but they are also highly customizable to fit your specific storage needs. Shelving can come in the form of wooden baskets, wire racks, or sturdy metal bins that can be nailed into your shed walls.

Storage Containers

Another way to maximize your storage shed's space is to use storage containers to store your backyard items. Containers are sturdier than shelving, can sit on the ground, or line your shed's interior wall. They're great at holding larger equipment, garden hoses, and other hefty items. Plus, many containers function like tall, miniature sheds with their own doors for easy access and discreet storage.

Additional Ideas

You can also look into more specific indoor organization solutions for your outdoor storage shed such as installing custom shelves and baskets for your walls or constructing a specialized tool rack. Additionally, you could add smaller storage compartments within your shed to create a more secure place for your valuables. For wires, ropes, and other tangled messes, there's always the option of hanging them up from the ceiling of your shed.
With a little bit of creativity and a few tools, your storage shed can be decluttered and organized in no time.
Your Source for Superior Outdoor Storage Sheds
If you're looking into specialized outdoor storage shed solutions to better organize your stuff, then count on the experienced staff at Superior Sheds to help you design the perfect structure to fit your style, budget, and needs. For more information on the body, roof, trim, and colors we carry, contact us by calling 1-877-439-7433 or email us to discuss your specific building requirements.