The garage serves a lot of storage purposes, with the main one being to house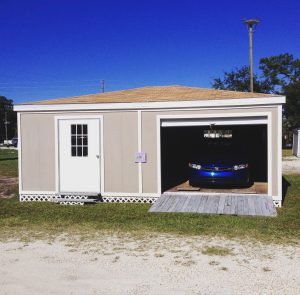 your vehicles. However, according to PR Newswire, a survey taken by Gladiator GarageWorks found that one in four Americans can't park their car inside of their garage because of its disorganization and clutter. Another potential reason homeowners aren't parking their vehicles into their garages, especially in older homes, is because their modern cars won't fit.
Most of us are guilty of filling our garage with things we don't use every day or aren't ready to get rid of just yet, causing us to turn our garage into an extra storage room. If this sounds like you or someone you know, there are a couple of solutions to help protect your vehicle from the outside elements.
Move your belongings into your Superior Shed to make room in your garage.
Place a Superior Shed on your property and park your vehicle inside.
Your vehicle is an expensive purchase and aside from your home, may be one of the most substantial purchases you make. If your garage is filled to the brim with gym equipment, sports equipment, car cleaning supplies, holiday directions, etc. and you just don't see yourself transferring your belongings into your new shed, store your vehicle inside of it instead.
Prefab sheds are one of the easiest and most cost efficient ways to add a garage to your property. Our 12 x 24 Bungalow shed leaves plenty of room to pull a truck in, open the doors, and easily get out. If you need more storage space than a single wide shed offers, we offer three double wide models that can be built as large as 20 x 36, giving you 720 square feet of extra storage.
With so many options that can be customized to fit your family's specific needs, let Superior Sheds help guide you in creating the perfect garage that will last for decades. Our sheds are built to withstand even the harshest weather so there's no need to worry about the protection of your vehicles. Call us today at 386-774-9861 for more information.