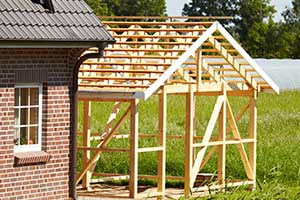 When you buy a shed or building for your property, it is a big commitment. However, deciding on the type of outdoor structure you want to buy goes beyond selecting its style and material. There are actually two types of modular buildings to choose between, temporary structures and permanent structures, and each has its own set of pros and cons. Understanding the difference between a temporary and permanent structure can help you decide on which structure will serve your Florida home best.
Difference Between a Permanent Structure and a Temporary Structure
There are five factors where permanent structures and a temporary structures differ:
Construction time

Building time for a temporary structure can take 30–40 days, while a permanent structure can take 2–4 months—depending on the size of the building.

Purpose

If you're constantly on the move or in need of something quickly, then a temporary structure would best fit your needs. Typically, classroom additions and mobile structures are temporary installations. However, if you don't plan on relocating, a permanent structure is what you need. Typical examples of permanent structures include garages and steel buildings.

Cost

A temporary structure is the most economical option because the materials and labor cost less. Conversely, a permanent structure costs more because the construction uses long-lasting materials.

Longevity

A permanent structure is going to last you decades because, just like a conventional building, they are made for long-term use. Temporary structures are built for portability so they can easily be moved to different relocations, lasting several years with maintenance.

Materials

A temporary structure typically uses wood-based materials, making the building easier to relocate. Stronger materials, such as steel and concrete, are used on a permanent structure so that it can withstand the elements overtime.
Get a Sturdy Temporary and Permanent Structure from Superior Sheds
If you need a temporary structure or a permanent structure, you can choose from Superior Sheds' wide selection of durable and high-quality structures. Our experienced staff can help you decide which structure best fits your style, budget and needs. Whether you need a carport, steel building, or one of our many shed models, we can provide you with a sturdy structure made of wood, vinyl or metal that can withstand Florida's intense weather.
For more information on the body, roof, trim, and colors we carry, contact our experts by calling 1-877-439-7433 or email us to discuss your specific building requirements.