After assembling your prefabricated shed in our Superior Shed's factory, we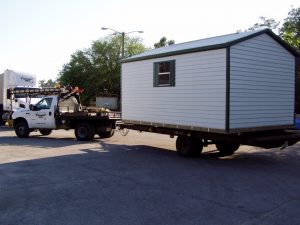 will deliver and set it up at your home or business. We use a unique block and anchoring system that will withstand Florida's harshest weather, meeting the 180 mph wind rating required for Miami/Dade building codes. When facing challenging spaces, our trained and experienced delivery crew uses a variety of methods to get your shed on to your property. So, if you think you may not have the space to place a brand new shed in, think again!
Once the delivery team arrives at your home or business, they will verify where you would like your shed to be installed. Then, they will place it at the site, whether by trailer or by crane. As the team sets up the shed, they follow a detailed checklist to ensure everything is lined up correctly, and that features such as the windows, doors, etc. are to your satisfaction before leaving the job.
Have a shed already, but need to move it to a different location? We can do that as well!
At Superior Sheds, we build quality sheds to fit your specific needs. We have manufactured and installed over 100,000 sheds across the state of Florida and deliver them right to our customers home or business. We are a consumer-oriented company who takes pride in our products and the service we give our customers. If you're looking to purchase a new shed, or if you need to move one you already have, contact us today by calling 1-877-439-7433 or fill out the get a quote form online.