Summer is a wonderful time of year to get outside and enjoy the weather! The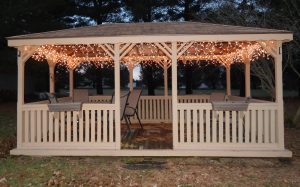 sunshine beckons everyone to come out and take advantage of the longer daytime. It is a season filled with barbecues, outdoor dining, swimming, and sunset-watching. What can make your summer activities even better is the installation of a brand-new, beautiful gazebo! At Superior Sheds, we can build you a high-quality gazebo which will allow you to get the most out of the summertime.
Shady Retreat
Enjoying the summer weather in Florida can be a challenge at times, since it can get extremely hot with the sun beating down on you. But, instead of admitting defeat and staying inside, you can still spend time outdoors in your yard in a cool, shady gazebo. It keeps the rays off as well as any structure, while at the same time allowing welcome breezes inside. A gazebo can become your favorite outdoor reading and napping spot, even in the sweltering heat of summer!
No More Bugs!
If you live near a body of water like a lake or stream, you know well how irritating bugs can get in the summer. With the warmer, wetter conditions, insect populations increase exponentially. Mosquitoes can quickly ruin any outdoor activity, and do their worst exactly when you want to be outside: right when the sun starts setting. But, you can still watch the beautiful summer sunsets that Florida has to offer from your backyard in the comfort of a screened-in gazebo, courtesy of Superior Sheds.
Romantic Dinner Spot
Gazebos provide the perfect setting for a romantic night with your significant other. There's just something about being outdoors, surrounded by natural beauty, that no dinner date at a restaurant can capture. Set up a candlelight dinner and decorate the gazebo with flowers and twinkle lights to create the perfect romantic getaway, right at home.
Outdoor Party Space
No summer is complete without at least a couple of outdoor parties and cookouts. But, the unpredictable afternoon showers in Florida can bring your perfectly planned cookout to a halt. That's where a gazebo can save you lots of frustration – set up some chairs and even bring your grill inside, and you'll have a weather-proof outdoor party spot! Keep your guests cool and dry in a shady, spacious gazebo.
Superior Sheds can create the perfect gazebo for your yard. We can custom-design your gazebo to be a poolside retreat, a garden resting place, or a lakeside watch. Choose from several shapes and sizes based on your needs, from our smallest 8'x8' design perfect for gardens to a 10'x20' outdoor party space. Call us today at 877-439-7433 to get a free quote!