When your home is getting overfilled with a lifetimes' worth of material items,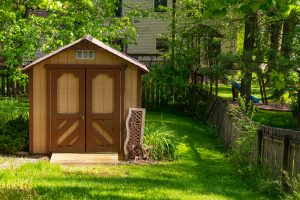 family heirlooms, and personal possessions but you don't want to part ways with any of them, then you'll need a space nearby to store your accumulated belongings. Instead of spending money in offsite storage units, consider getting a backyard shed for extra storage.
Sheds are incredibly adaptable and can be custom-built to fit your individual needs. Not only can a shed serve you by storing different items, but it can also be modified to include an entrance ramp in order to provide even more versatility and accessibility. Here are three ways that adding an entrance ramp to your shed will add value and make your shed work better for you.
Creates Accessibility and Ease
Accommodating and easy-to-use, shed ramps are great for assisting mobility both in and out of sheds. For instance, if you are using a bungalow or double-wide shed as a guest house, then an entrance ramp will provide limitless accessibility for any visiting elderly or handicapped guest by offering their wheelchair or walker a smooth transition into your shed. The same goes for smaller animals and pets who may have trouble making a step in or out of your shed's threshold.
Convenient for Wheeled Storage
Making your shed more accessible by adding features like an entrance ramp will also make storage packing and retrieval less stressful. For instance, if you need to store heavy items into your protected enclosure, then the addition of an entrance ramp will make it easy to wheel them in — saving you a ton of time and hassle.
Furthermore, shed ramps are crucial if you are storing a vehicle. Whether it's an automobile, motorcycle, or bicycle, shed ramps are a perfect feature for guiding any vehicle into your storage unit. Additionally, shed ramps are considered must-haves for putting away push and riding lawnmowers. By using an entrance ramp, you can ensure that your lawnmower will easily transition in and out of your shed. Ramps also grant you the option of riding your wheeled machine inside the shed. Then, when it's time to use it again, you can simply back it out into the backyard.
Adds Aesthetic and Versatility
Shed ramps are available in several different materials that can be customized to complement the exterior look of your overall shed.
Wooden Ramps – With a wooden entrance ramp, you can have it stained or painted to match the exact color of your portable shed.
Aluminum Ramps – Lightweight but durable, aluminum ramps are a recommended short-term option for less intense storage.
Steel Ramps – Strong enough to hold the heaviest of vehicles steel ramps can also be easily removed and stored inside your shed when not in use.
With a storage ramp, your shed becomes multi-purpose. With a walk-in and roll-in shed, you can store and fetch whatever you like, whenever you like.
Make Your Shed Superior With an Entrance Ramp
Maintaining accessibility and ease is important when installing a shed. In business for 25 years, Superior Sheds develops all kinds of specialty sheds to optimize your experience. Our experienced staff can help you design the perfect structure to fit your style, budget, and needs. For more information, contact us by calling 1-877-439-7433 to discuss your specific building requirements.