Homeowners often consider getting a shed for a variety of reasons, each unique to them and their property. But no matter the reason for wanting to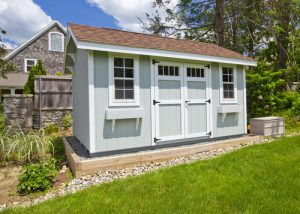 obtain a shed, quality should be the number one feature considered. If you're an Ocala, Florida resident, you're probably more than familiar with the intense weather conditions that Florida receives, which is why you'll want to ensure that your shed will be able to withstand fierce wind, rain, and heat. Superior Sheds offers Ocala residents the best shed services for the following reasons.
We Offer a Variety of Styles
Sheds are used for many different purposes such as storage space, a greenhouse, or even a separate office space. The style of your shed is completely up to you and can be entirely customized based on your needs. Our most popular styles include:
Bungalow: A stylish option that boasts a large amount of storage space and offers customization for the entryway, windows, vents, and more.
Cabana: A tropical-inspired unit that offers upgrade options for doors and windows.
Double/Triple Wide: If space is what you're looking for, consider getting a double- or triple-wide shed, which can span over 700 square feet, offering you maximum storage capacity.
We Also Offer Shed Accessories
Your shed can easily benefit from additional features, which you can pick and choose to your liking. Popular accessories we offer include:
Ramps: If you're looking to store a car or two in your shed, a ramp will be fundamental to make sure parking is a breeze.
Door sealer protector: Since sheds are most often used for storage, you may want to consider getting something to protect the plywood door frame from getting damaged when heavy objects are moved in and out of it.
Vents: Vents will help maintain a cool temperature in your shed on hotter Ocala days.
We Test for Quality
To keep our sheds up to code, we follow HOA regulations by keeping our licensing up to date, monitoring building codes, and acquiring the correct permits. We also thoroughly test every one of our sheds before we send them out to make sure they're able to combat the intense Florida weather.
We Work With You
No matter the purpose of your new shed, we will work our hardest to ensure that you're provided with top-of-the-line customer service from the time you first contact us to the end of the shed installation, and beyond. We love being able to involve you in every step of the process and will do our best to craft your dream shed into reality.