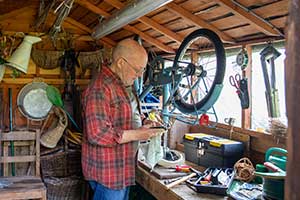 Homeowners interested in investing in additional storage space for their property often consider adding a garage or a shed; however, they often have trouble differentiating between the two. That is because there are many notable differences between small garages and outdoor sheds—even more so in the modern design world in which manufacturers build garages and sheds to match the home's design.
To help you decide which structure is best for you, here are some of the differences between a garage and a shed.
What Is Different Between a Garage and a Shed?
While a detached garage and an outdoor shed may look the same to the naked eye, there are, in fact, several distinguishing factors that separate the two structures.
A garage is either a large one or two-story enclosed structure that is typically positioned to the side, back, or front of a house. Traditional garages come with the home you buy, but homes lacking a permanent garage can add a connecting or separately built garage the house.
Garages are normally accessible via a large garage door that opens onto a driveway, but they can also have single backdoor or side door access to enter the backyard or home interior. While their primary purpose is for the storage of automobiles, garages also have other storage purposes. Oftentimes, there are added elements to garages such as plumbing and electricity, so they can be used as washrooms or workshops.
Sheds are smaller buildings that are constructed outside and separate from the house, usually in a backyard. For reinforcement, they are usually built on a cement pad but can be portable structures. Primarily used for the storage of excess items, yard equipment, or lawn and garden tools, outdoor sheds are more versatile than built-in garages. Sheds can also function as creative workshops, home offices, kids' playrooms, or entertaining mancaves and she-sheds. With a Superior Shed, your outdoor storage options are endless.
High-Quality Sheds in Central Florida
Superior Sheds provides a variety of shed options for versatile and spacious outdoor storage. Our stylish and weather-resistant sheds include the Bungalow, Country Inn, Cabana, and Double and Triple Wide options.
Our experienced staff at Superior Sheds can help you design and install the perfect customizable structure to fit your style, budget, and needs. For more information on the body, roof, trim, and colors we carry, contact us by calling 1-877-439-7433 or email us to discuss your specific building requirements.