If you don't have a garage on your Florida property, consider the value of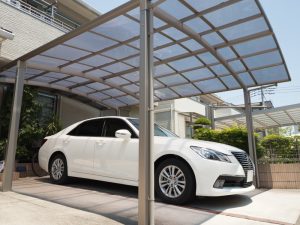 adding a professionally installed carport. They offer protection for your vehicles and over-sized property, and extend comfort and convenience to you, family members, and guests.
Extra Storage
Store cars, trucks, lawn mowers, bikes, motorcycles, large outdoor toys, and many other items under your carport. It shields your property from destructive outdoor elements and bad weather. This option also keeps the exterior of your home looking neat and organized.
Sun Protection
Florida residents are familiar with the heat and humidity of this lovely state. The added shade of a carport can make an important difference when you're climbing into a car or onto a bike or toy that's been sitting under the sun all day. This shading feature also protects your property from the fading powers of the sun.
Personal Safety
Whether you live alone, you're a senior citizen, you work odd hours, or you feel vulnerable for other reasons, safety is key. With the close proximity to your house, your carport offers a better option than street parking. You can also install features that provide helpful physical support if that's a factor.
Home Security
Deter burglars and prowlers with a well-lit carport. Criminals are less inclined to target these areas. And you can secure smaller equipment—like bikes, toys, and mowers—to your steel carport structure for enhanced security.
Recreation
Your carport can easily double as a patio for lounging outside or outdoor gatherings. It's also a nice spot for children to play under. It's a cool shaded area, and the steel cover protects everyone from rain showers.
Bonus Use: Holiday and Party Decor
Never underestimate the power of a positive attitude. Festive decor can support a happy outlook. String lights, balloons, and other decorations along the roof and support posts of your carport for holidays, parties, and other special events. It's a small thing that can make a big impact.
Car Protection from Superior Sheds
Are you ready to get more use from your property outdoors and increase the personal value of your home with a carport? For professional installation, quality materials, and A+ customer service, rely on Superior Sheds. Our steel carports are built to endure. Call 1-877-439-7433 to schedule a custom design consultation today.