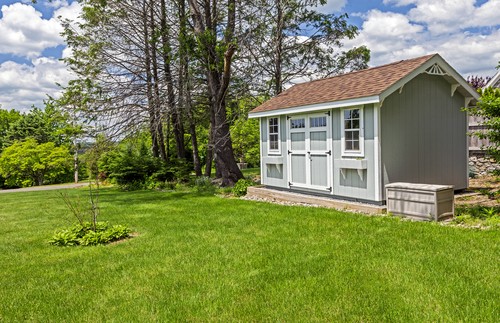 Working from home has become a fact of modern business culture. Whether you're an entrepreneur, a freelancer or a creative, you've probably got a corner of your home that's dedicated to work. The problem for most people is that even a door can't effectively separate your home working environment from household activities. Chores, children, animals, doorbells, the refrigerator – all great aspects of daily life, but all potential interruptions when you're trying to concentrate.
Many home workers have discovered the home office shed option. Located outside the main house in a garden or backyard, an office shed offers that crucial separation from domestic activity. It doesn't have to be rustic or jerry-rigged – the whole point is to have a safe, comfortable and attractive place to focus on work.
Here are a few tips for kitting out your backyard shed to use as an office space:
Furnish it as you would any office area with a proper desk and comfortable seating, a place to store papers and equipment.
Because it is yours and informal, add comforts such as personal photographs in frames, cushions and rugs, and an armchair or sofa for reading or relaxing.
Running electrical from the main house should not be overly complicated, but consider whether your office shed could run off a solar panel or two. Unless you are running special equipment, electrical needs should be minimal, but you may need to power a modem for wifi, computers, printers, and other devices.
Heating and cooling are a consideration for smaller spaces. Windows and vents should be carefully placed to ensure cross-ventilation. And insulation (and possibly portable heaters) are a must if you'll be using your office shed during colder months. You want to avoid using discomfort as an excuse to knock off work early!
The modern gig economy and telecommuting workplaces are requiring more and more of us to work from home at least part of the time. And most people enjoy that flexibility. But a dedicated workspace can boost both creativity and productivity, so consider installing a home office shed of your own. Call a consultant at Superior Sheds today to learn more about why and how to do it, pricing and more.