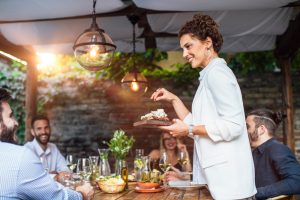 The beautiful weather of the Sunshine State makes hosting an outdoor event a possibility for homeowners in every season. From holiday barbecues and baby showers to garden parties and neighborhood gatherings, you can get the most out of your outside space by using these tips for entertaining outdoors year-round.
Arrange Furniture Creatively
Create an inviting atmosphere by providing your guests with plenty of seating options. Instead of using standard patio furniture, move the food and refreshments to a side table and mix-up your seating selection by combining cushioned, all-weather lounges, chairs, and couches with a few Adirondack chairs, stools, or even a bench swing sprinkled-in for added comfort. Arrange the furniture throughout your space to allow for intimate conversation, mingling, and relaxing.
Light the Mood
Adjust your outdoor lighting to make your guests feel more at ease. Use warmer blubs and dim the lights slightly, if possible, to make for a softer, more welcoming space. You can also use creative lighting to accentuate an annual event. A string of lights draped overhead can provide a rural aesthetic to a holiday feast, while a yard lined with tiki torches can make any Summer BBQ sizzle.
Prepare for the Weather
Don't let Florida's humidity or reliable Summer showers cause your outdoor entertaining plans to hit a snag. A little preparation can keep the weather from putting a damper on your festivities and help make your backyard the most impressive on the block. Complement your outdoor space with a pergola to provide guests with a shaded area to avoid the heat or a gazebo to help them stay dry if it rains. During the winter months, a backyard firepit is the perfect place to entertain guests while roasting marshmallows under the stars.
If you're looking for the perfect way to transform your property into the perfect outdoor entertainment venue, look no further than Superior Sheds. Our quality gazebos are available in a variety of sizes and styles to suit any aesthetic, are rated to withstand up to 150mph wind gusts, and meet all Florida building codes so you can rest assured knowing your new addition can withstand anything thrown at it.
Call us today at 386-774-9861 for more information, or request a quote here.