When looking for a way to keep your kid's clutter at bay, a great idea is to turn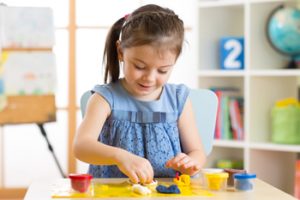 your shed into an ultimate backyard playroom. Paint the walls a fun color, cover the floors with carpet tiles, and set up pieces such as a bookshelf and a small table with chairs, providing your kids with plenty of space to get creative.
Transformation Tips
Paint the walls in a bright color or chalk paint so the kids can draw up a storm, plus hang up cork to provide plenty of space to display artwork.
For flooring, add a large area rug, indoor/outdoor carpet, or soft foam tiles to help with comfort. Just make sure whatever you choose will withstand potential accidents and be easy to clean.
Set up an adjustable cubby bookshelf to add extra storage for items like books and toys.
Add a small table and chairs for a useable workspace. If your shed is limited on space, install a folding wall-mounted workbench that can be easily folded against the wall when not in use.
If you want to add some lighting without paying the cost to run electrical wiring, you can mount an outdoor LED light which automatically turns on at dusk.
Include natural elements by adding flowers to a flower box that is currently attached or can be easily attached
Add fun accessories on the outside of your shed that allows your kids to continue their imaginative play outdoors.
Shed Options
The Bungalow. Our durable Bungalow is classically designed and comes in various styles to suit your kid's needs.
The Cabana. For an island look with a roof that gives a vaulted feel, check out our Cabana shed. A porch option is available which could be great for the kid's to entertain their audience while putting on theatrical or dance performances.
The Country Inn. Stylish and spacious with a porch option, the Country Inn can be made to match your home's exterior and would make an excellent addition for a kid's playroom in your backyard.
It may take some time, money, and creativity to turn your shed into a kid's playroom, but it is well worth the investment. Further down the line, you can turn it into a neat teen space or even a space for an office or personalized workshop when your kid's no longer use the shed. To make sure your shed will last as long as your family's needs for it will, you want to buy the highest quality shed you can get.
At Superior Sheds, we build a variety of sheds, so no matter which style of shed you choose, we offer an assortment of entry doors, windows, vents, ramps, and electrical packages to help you create the perfect playroom for your kid's. Our products are Florida State approved and inspected so they'll last for years to come. Call us today at 386-774-9861 or contact us online to let us help get you started with your project.