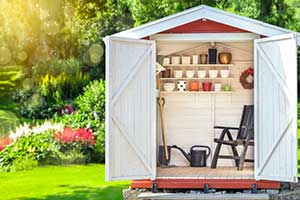 With everything going on in the world, it's easy to forget about keeping up with the organizational maintenance of your outdoor shed. However, while a cluttered shed is understandable, the problem won't solve itself. If when you walk into your shed you find yourself tripping over unorganized garden tools, unable to find what you need, or overwhelmed by piles of boxes and junk, then you may want to consider the following ways to organize your outdoor shed.
4 Useful Outdoor Shed Organizing Tips
If you're looking to change the state of your shed, follow these four helpful shed organizing tips:
Add Outdoor Shed Shelves – This first tip may seem simple, but it will make a world of difference. When you need to add more space for items in your house, what do you do? You probably add shelves to your walls. Therefore, your outdoor shed should be no exception to this rule. Not only can adding shelves create more space to place smaller items, but you can also use them to decorate your shed as well.
Repurpose Old Materials for Storage – One big mistake people make when using an outdoor shed is that they just throw all of their tools around haphazardly. It is incredibly important to have organizational tools, like boxes and shelves. However, these things can be expensive, so one way to organize on a budget is to repurpose old items for organization. For example, you can use old wooden crates as places to store items. Another idea is that you can move an old bookshelf into your shed as a place to organize your items.
Use Labels – If you have a hard time finding items in your shed, labels can be your best friend. Particularly for small items, we recommend keeping small, loose objects in plastic tubs with organizational labels. This way, these small objects, like scissors or garden shovels, can be easily found without rifling blindly through potentially sharp objects.
Utilize Hooks – Hooks are another great way to maximize your shed's wall space for storage. Strong metal hooks can very easily hold up larger tools, like long rakes and brooms, giving you easy access to your tools and preventing them from taking up floor space.
Superior Outdoor Sheds for All Your Storage Needs
If you are in the process of organizing your outdoor shed and come to the realization that you need more space, perhaps it's best to invest in a new one. If that's the case, Superior Sheds is here to help.
At Superior Sheds, we proudly offer an extensive inventory of durable and versatile sheds of many different types and sizes. These include our Bungalow Sheds, Country Inn Sheds, Cabana Sheds, and Double Wide sheds. Not only that, but our expert staff is knowledgeable about all different kinds of specialty sheds and can help you design the perfect shed for you. We'll make sure it fits your specific style, budget, and needs. For more information on our sheds or our shed bodies, roofs, trims, and colors, call us at 1-877-439-7433 today.