Why should men be the only ones to have all the fun? Man caves are still as popular as ever, but guys need to step aside because the She Shed is here!
Her Spot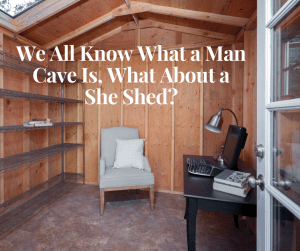 So, what is a She Shed? These are hideaways for the woman of the house. It's a space in the backyard that's designed specifically for her. These sheds give women an escape from the stress of work, kids, pets, and even her partner, now and again.
As a woman, a She Shed gives you a little breathing room. You can set up this lovely shed exactly how you want. You choose the décor, the ambiance, the colors, and all the touches that make it uniquely yours. Your She Shed should be whatever you desire – from a frilly extension of your bedroom to a work-out studio, and anything in between.
Let Us Help You Get Started
To create this hideaway, start with a quality shed that has the features you desire in your She Shed. At Superior Sheds, we offer a vast range of outdoor sheds to meet all your needs. We even offer bungalow sheds and Country Inn Sheds that lend themselves to the She Shed concept beautifully. These lovely sheds feature windows, porches, and other attractive features for your hideaway.
Browse colors, styles, materials, and dimensions to find what you need, and choose a shed from Superior Sheds for your backyard getaway. Our sheds are Florida State approved and inspected, and our team guides you through the process of obtaining the necessary local permits. Once you've purchased your shed and set it up on your property – the sky is the limit on your creativity and design ideas for your own She Shed. Contact Superior Sheds today to get started.