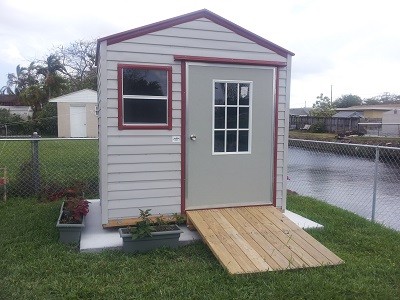 Designing a shed for your home or business is exciting. You've probably already thought about how you want to use it and how it should look. However, what you might not have thought of is what it will take to get your shed installed. Whether your shed is 6' X 8' or 14' X 40' in size, you'll need to find out whether or not you will be required to get a building permit prior to installing your shed.
In many areas, installing a smaller shed generally meets building code requirements, but larger sheds may challenge zoning limits. While it's up to the owner to obtain a building permit prior to installation, we understand that the process can sometimes be overwhelming.
Some Things to Keep in Mind
Each county has specific building codes you must follow, so it's important to be aware of standard zoning restrictions such as:
Electricity – There may be restrictions on whether you can install electrical wiring, or how it can be connected inside the shed.
Size – Some areas may not allow larger sheds to be installed on your property.
Weather – If you live in an area that experiences extreme weather such as hurricanes, your shed may need to meet specific wind loads of where it will be installed.
Location – You may only be allowed to place your shed in particular areas of your property, away from certain objects such as trees, fences, property lines, and pools.
Purpose – While you'll want to use your shed for a multitude of things, some of them may be restricted. An example would be if you wanted to attach your shed to your home for more living space.
Foundation – Before having your shed placed on existing foundation, make sure it's up to code. Also, if you're thinking of putting your shed on a slab, check to see if the way it's built will help to eliminate the cost and need of one.
To keep your building project from being delayed, call the building codes department in your city or county to get a building permit for your shed. Our Superior Sheds experts will make sure to get you all of the accurate information you need so that you won't violate local building codes. We have the knowledge and experience to help guide you through the permit process. For any questions you may have, call us today at 386-774-9861 or contact us online.