Whi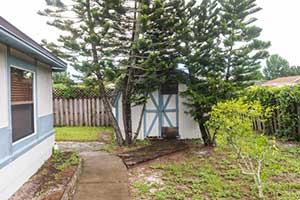 le Florida is known for its sunny, sweltering weather, the other side is hurricane season. Florida is extremely prone to hurricanes, so it is important your home and shed are hurricane and weather-proof.
Here are some suggestions for some of the best sheds for Florida weather.
What the Best Sheds for Florida Weather Should Include
A weather-resistant shed should include pressure-treated skids and floor joists attached to a Simpson Hurricane Fastening System for added protection. At Superior Sheds, all of our shed styles are built to the aforementioned specifications and are designed to withstand Florida's most intense elements such as sun, wind, rain, and hail.
The Best Shed Is a Superior Shed
There are many sturdy, durable, and wind- and weather-resistant shed models available at Superior Sheds. Our styles include the Bungalow, Country Inn, Cabana, and Double and Triple Wide options.
Your Source for Durable Florida Sheds
Superior Sheds provides a variety of shed options for versatile and spacious outdoor storage. Our experienced staff can help you design and install the perfect structure to fit your style, budget, and needs. For more information on the body, roof, trim, and colors we carry, contact us by calling 1-877-439-7433 or email us at info@superiorsheds.com to discuss your specific building requirements.