Gable Garages are a popular choice for homeowners looking to add a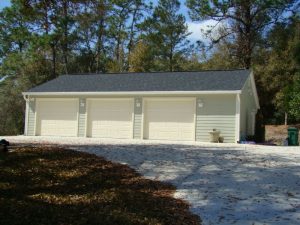 detached garage to their property. The term gable refers to the pitched or peaked, triangular style of roof on the garage. Depending on their needs, homeowners can design the roof pitch to be slanted at different angles to accommodate the style of their house and the orientation to the street.
There are two main options for gable garages, which include:
Front gable – The garage door sits below the roof
Side gable – (Also known as reserve gable) The flat portion of the roof sits above the garage door
Advantages of Gable Garages
Sturdy construction
Vaulted ceilings provide increased storage space and ventilation
The simple design usually makes them easier to build and less expensive
The pitch can be made to complement the look of your home
Windows and other features can be added to enhance the look of the garage
The steep slope of the roof will easily shed water and snow
If you want a garage that is both beautiful and practical, a gable garage is a perfect choice. Create a unique look by adding various features such as windows and siding trim to really help your garage stand out.
If you're looking to design your own garage, Superior Sheds offers many different styles and sizes, including gable styles from 18' X 20' to 30' X 60' that are built in a controlled factory environment and then delivered and assembled at your home or business. To discuss your needs, options, and pricing, contact us today by calling 1-877-439-7433.