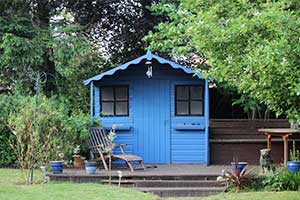 It is important to consider the pros and cons of a metal shed vs wood shed to ensure you get the right long-lasting structure for your Florida property. If you are ready to start building a shed but don't know which type of shed to choose, here is a breakdown of the similarities and differences between metal and wood sheds and how well each can withstand Florida's unpredictable weather.
Metal Shed vs Wood Shed
Wooden Shed Pros and Cons:

Comes in many different styles and colors that can easily be changed.
Versatile in how easy it is to alter its size and shape to best fit what you need.
Vulnerable to exposure to outdoor elements like pests and severe weather, which can lead to possible termite infestation or rot.
May cost more than a metal shed in the long term due to repairs or material replacement.

Metal Shed Pros and Cons:

Extremely durable metal materials require less maintenance, have natural resistance to rot, and hold up better against wind, rain, and debris than wooden sheds.
More environmentally friendly because metal shed components are largely made up of recycled materials.
Can be prone to rusting if not properly maintained.
While metal sheds are available in a variety of colors, they are not as easy to paint as wooden sheds. Therefore, if your style needs change, it could be an expensive process.
For longevity in Florida's climate, metal sheds are the more optimal choice over durable-but-vulnerable wooden sheds. Regardless of the style you choose, the pros at Superior Sheds offer durable metal and wooden sheds—such as our Bungalow, Cabana, and Double & Triple Wide models—that are built to Florida code to withstand inclement weather conditions.
The Most Superior Sheds for Florida Weather
From sheds and steel buildings to gazebos and carports, Superior Sheds provides a variety of options for versatile and spacious outdoor living and storage. Our experienced staff can help you design and install the perfect structure to fit your style, budget, and needs. For more information on the body, roof, trim, and colors we carry, contact us by calling 1-877-439-7433 to discuss your specific building requirements.