Why does any person choose one product over another? Are your decisions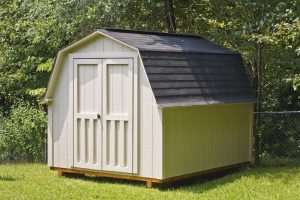 just based on price, or are your choices individual to the specific features and benefits that each option has to offer? Although you're less likely to spend if the price isn't right, you still need to weigh specific attributes when searching for specific products. So, if you're in the market for a shed, take a look at the top characteristics to consider when figuring out which one is right for you.
Decorative Details
While you want your shed to stay safe, your first priority might secretly fall in the decorative court. So don't be afraid to enjoy shopping around to find a shed that will share a similar theme to your overall outdoor dreams. If you're looking for a rustic and western-inspired shed, a unit with wood grain siding might be the perfect fit. However, if you have lifelong dreams of turning your yard into one with a permanent vacation vibe, a shed with a modern roof and tropical window design could finally bring your vision to life. Although style might not seem like it deserves as much stock as other attributes like price and size, it matters quite a lot. Because, after all, your shed is a long-term investment and installation.
Security System
Regardless of what your master shed plans are, your unit is going to store some valuable items. Therefore, you need to consider how you plan to secure it. Are you sticking with a traditional deadbolt or splurging on a high-grade security system? If you're leaning toward a motion- or noise-sensor system, you can feel safe purchasing a shed with windowed doors. However, if your budget or preference calls for a traditional deadbolt, lock-and-key system, you may want to stick with a single-door, windowless entrance. Depending on which you choose, however, you may need to consider an electrical installation to support connective security software.
Accessibility Accessories
Depending on who and what you plan on sharing your shed with, there are some access options to think about. If you want to elevate the aesthetic of your shed by setting it on a concrete slab, envision your unit stairs or a ramp for convenient accessibility. Likewise, if your shed will serve as a storage unit for heavy items or motor-powered goods, you might also want to consider a ramp for smooth entry. For those who just want some extra square footage with whichever size shed they choose, a porch addition should be another option to weigh while shopping.
The Right Shed Supplier
Before you narrow down which sheds to choose between, narrow down which supplier you want to trust with your shed selection. When looking for the right retailer, choose one with decades of excellence in customer service and professional experience with shed manufacturing. At Superior Sheds, we've strived for over 25 years to be Central Florida's top shed supplier. Before you give any shed the green light, visit one of our many locations and let us guide you to the right one. For more information, contact the team at Superior Sheds today.