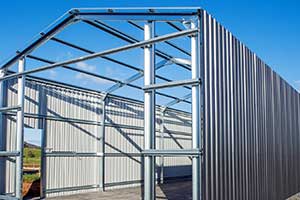 When it comes to commercial and even residential structures, a high-quality steel building is fast becoming a reliable and popular choice. Advancements in steel building materials and manufacturing now allow for more aesthetic options in addition to other benefits like durability and affordability. This makes deciding to go with steel a top choice with most commercial and residential property owners.
However, research is your best friend when making large purchases. Here are some of the things you should look for before buying a high-quality steel building.
3 Tips When Buying a High-Quality Steel Building
Check local code and zoning details.

Before buying anything, make sure you get with local building code and zoning officials to ensure you know what you can or cannot do with your high-quality steel building. Depending on where you live, there could be many factors—such as size and placement restrictions—to consider before construction.

Less isn't more.

For most hardworking consumers, price is an important factor. However, much like a mattress, it's best not to try and cut too many corners when budgeting for a high-quality steel building. Doing so could compromise overall stability and safety that, at the end of the day, should be priority No. 1 when purchasing a new structure.

Go with a steel building professional.

For the best results possible, it's vital you buy from an accredited, trusted, and experienced operation when shopping for a high-quality steel building. With high-quality materials and reliable staff, a professional manufacturer can guarantee your high-quality steel building will remain the same durable, safe, and secure structure you purchased for years to come.
Your Local High-Quality Steel Building Provider
From open-sided carports to fully enclosed options, Superior Sheds is your best choice for high-quality steel buildings.
At Superior Sheds, we provide durable and secure structures for outdoor storage and covered protection of your valued belongings, tools, and everything in-between. Our experienced staff can work with you to design custom-made steel building options that fit your style, budget, and specific building requirements.
For more information on the types of steel buildings we carry, call us today at 1-877-439-7433.